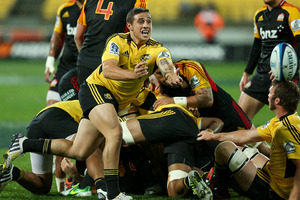 Five Super rugby rounds to go and the make-up of the top-six play-off spots is less than clear-cut. One thing is certain though - the derby matches packed into the latter stages mean the final standings will probably look a lot different than they do now.
The derby phenomenon is competition-wide but the Chiefs and Crusaders are good teams to start with. They meet this Friday night in Hamilton for their first clash of the season and face each other again in Christchurch three rounds later. What price for these two meeting again in the finals series like last season?
After their bye next weekend, and apart from the Crusaders match at AMI Stadium, the Chiefs, who are top of the table, also face the Hurricanes at home and the Blues away.
After this weekend, the Crusaders face three New Zealand teams in four matches, the Waratahs at home the odd one out.
The Hurricanes face three New Zealand teams in four matches after this weekend's bye. The Highlanders also face three.
The Blues face the fewest - two (against the Highlanders and Chiefs), but face the added challenge of a trip to South Africa and the prospect of tough matches against the Sharks in Durban and Cheetahs in Bloemfontein.
Things can change quickly in the run-in when you're beaten by a New Zealand rival.
The Hurricanes quickly slipped to ninth on the table after their loss to the Chiefs in Wellington and the Blues were overtaken by the Crusaders after their defeat in Christchurch.
The Highlanders, last and out of the running weeks ago, can still play a big part in the competition if they beat one or more of the Kiwi teams in the final stages.
Another significant factor is the three-week break for next month's tests against France.
Being away from their franchises won't be such a big deal for the All Blacks, but injuries could have a big say.
The New Zealand run-in
Derby matches in bold:
Blues
(6th overall, 3rd in NZC, 41 pts): Brumbies (h), Highlanders (a), Sharks (a), Cheetahs (a), Chiefs (h).
Chiefs
(1st overall, 1st in NZC, 48 pts): Crusaders (h), bye, Hurricanes (h), Crusaders (a), Blues (a).
Crusaders
(5th overall, 2nd in NZC, 42 pts): Chiefs (a), Waratahs (h), Highlanders (a), Chiefs (h), Hurricanes (h).
Highlanders
(15th overall, 5th in NZC, 16 pts): Force (a), Blues (h), Crusaders (h), Hurricanes (a), Rebels (a).
Hurricanes
(9th overall, 4th in NZC, 34 pts): bye, Brumbies (a), Chiefs (a), Highlanders (h), Crusaders (a).
- APNZ