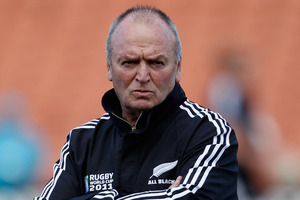 Blues assistant coach Sir Graham Henry has criticised the match officials following his side's loss to the Crusaders in Christchurch, suggesting, among other things, that the television match official was "blind'' and prop Wyatt Crockett "got away with murder".
The former All Blacks head coach was in vintage form when stepping in for Sir John Kirwan at a media scrum this morning at Blues headquarters ahead of Saturday's match against the Brumbies at Eden Park. His thoughts were revealed with a smile but there was serious intent.
Henry added he believed the Blues should have been awarded a penalty try and that Frank Halai definitely scored the try ruled out by TMO Keith Brown in the second half of the 23-3 victory by the Crusaders at AMI Stadium. He called the decision "ludicrous''. "I could see it and I'm blind,'' he said.
Henry also called the decision by referee Glen Jackson to sinbin Blues lock Culum Retallick for an intentional knock-on unfair, saying the player "is not that good, he's not that capable [of doing that], all due respects to Red, and he'll understand what I'm saying''.
Referring to Halai's attempt to score among a tangle of Crusaders' bodies, Henry said: "It was obvious to me. I don't know, he's probably a blind TMO is he?
"Then you had a situation where we attacked under the sticks. Frank went very close to scoring under the sticks and Andy Ellis is standing in front of the ball. It's a penalty try isn't it? Those sorts of things frustrate you but it's part of the game.
"They were better than us, I accept that, they deserved to win the game. But I don't think it's all bad from a Blues side.''
Asked if there was frustration at the way the scrum was interpreted by Jackson, Henry replied: "Oh for sure. I think Wyatt got away with murder. I thought there were a couple of scrum penalties which were frustrating to be frank, but after 40 years you get used to it.''
Henry said match officials should stick to the basics, rather than looking for reasons to send players off.
"When you're watching the game and you guys [media] watch the game, I'm sure, you see so many offsides from the ruck, not being behind the last man's feet at the ruck, and we are sitting in the coaches' box and I'm sure Toddy and the Crusaders' coaches are doing the same thing, saying `offside ref, offside assistant referees'. Those are the things they are there for, not some controversial knock-down of the ball in the 5m channel, yellow card. Just do the basics right, just like you ask rugby players to do the basics right, and you have a good game of footy.
"I would say there were probably 20 times in the game at the weekend where guys were offside at the ruck and we get this one controversial `did he knock the ball down' [decision]. As I say, [Retallick's] not good enough to do that, he was just trying to stop them from scoring. They threw the ball at him. He did a good job, he got in the road, and he got yellow-carded for deliberately knocking the ball down. It's bulls***.''
In his parting shot, Henry it wasn't his place to raise the issues with Sanzar referees' boss Lyndon Bray, saying with tongue in cheek: ``I'm just trying to keep a low profile as you can see and not be controversial. But I've enjoyed talking to you and I think we should stop that now.''
- APNZ