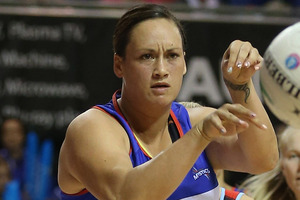 Central Pulse coach Robyn Broughton asked Joline Henry to give her a 60-minute effort last night and the wing defence was able to provide it for the first time this year.
Henry has battled to regain her fitness this year after giving birth in the off-season but she logged her first full game of the 2013 ANZ Championship as the Pulse beat the Northern Mystics 63-48 in Porirua.
"Well it's about time isn't it?," Broughton joked after the game. "No, she's one of our star players and I think she's worked really hard to get there and I know she'd want to be there. It's not just me, it's her too. She's driven to be out there and she's a great ball carrier and that's what we were missing."
Aside from her ball movement from the defensive end, Henry, who has struggled with calf troubles this season, brought something else the Pulse have lacked recently.
"It's the leadership that comes through the court," Broughton said.
Henry produced a handful of nice touches as the Pulse made light work of the Mystics to avenge a 69-68 overtime defeat in round five but they just looked a more composed lot with the Silver Fern on the court.
The win kept the Pulse's playoff aspirations alive and their run in to the post-season includes a home outing against the West Coast Fever on Sunday, home-and-away clashes with the Tactix and a trip to Invercargill to meet the Steel.
Broughton's side couldn't ask for an easier run to the finals but they will need to find an extra edge during the next month or so.
Too often they've given up games this year when they've had a lead and Henry, who has playoff experience from her previous stints with the Magic and the Mystics, said the elite sides don't do that.
"Playoff teams know how to win under pressure. I think we've been found wanting in those situations to date," the 30-year-old said.
"I think this is a step in the right direction but we have a lot more work to do."
The Pulse are in seventh place on the transtasman netball league ladder but are only one win outside the top four and Henry said there would be little margin for error in the coming weeks.
"We need to treat every game like it's our final and that's how we approached the game tonight. So that'll be our next test is looking at our next game, approaching that as a final."
Against the Mystics, the Pulse produced too many unforced errors but the 15-goal winning margin was important because it helped improve their points differential which took a pounding when the Vixens beat them by 22 goals in round seven.
Caitlin Thwaites (43/47) was busy at goal shoot for the Pulse, while veteran Donna Wilkins continued to provide a steady hand at goal attack and shot 20 from 22.
The Mystics only had themselves to blame as they committed 23 turnovers to the Pulse's 17 as they remained at the foot of the table.
Central Pulse 63 (Caitlin Thwaites 43/47, Donna Wilkins 20/22)
Northern Mystics 48 (Maria Tutaia 22/27, Cathrine Latu 15/17, Bailey Mes 11/13) 1Q: 17-14, HT: 31-24, 3Q: 47-38.
- APNZ