Ernie Merrick's history of success with Victory too good for Phoenix to pass up.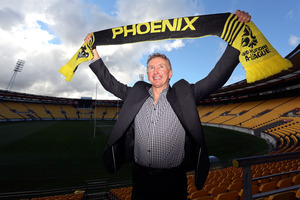 In the end, Ernie Merrick's knowledge of the A-League proved invaluable.
After he was unveiled as the Wellington Phoenix's second head coach yesterday, it was clear Merrick's extensive track record in the A-League was too good to pass up.
The 60-year-old guided the Melbourne Victory to three grand finals - winning two of them - during his stint in Victoria from 2005-2011.
Merrick's name came up early in the search to find Ricki Herbert's replacement and may not be a sexy option given some of the other names linked to the post, but there would have been some serious hurdles to overcome for a European coach.
European football leagues generally run without a salary cap and player turnover is high, in stark contrast to the A-League, which has a regimented spending system regarding players.
Phoenix chairman Rob Morrison said Merrick made a compelling case and the recruitment process had been exhaustive.
"A-League experience was important. It wasn't the only criteria but for some coaches we felt it was possibly a step too far in terms of bringing them into the A-League with no knowledge of New Zealand or Australia," Morrison said.
"You can't go away from the fact that having knowledge of players here, having knowledge of players in Australia and understanding that playing in this league is a little different from jumping in a bus and heading down the road for a game on Saturday, leaving on Friday night or Saturday morning."
Merrick, twice A-League coach of the year, said he felt the Phoenix position was an attractive prospect.
"All in all I just saw an honest potential here, particularly the idea of bringing along young players; the school of excellence, partnerships with the likes of Team Wellington and developing future players for the Phoenix and perhaps New Zealand down the track and that was a tremendous attraction."
Much was made of the Phoenix's style of play last season as they tried to focus on a possession-based approach, but Merrick said there was one sure-fire way to attract the fans back to the Cake Tin.
"Football is about winning and putting on a show and the best show is scoring goals," he said.
Merrick, who also applied for the Adelaide United position but wasn't given an interview, will begin his new role on June 5.
The players will report back shortly after for pre-season training, with the A-League not set to kick off until September or October.
Morrison and general manager David Dome said there would be announcements on player signings and Merrick's support staff in the coming weeks.
Chris Greenacre, who served as interim manager after Herbert left, will be kept on in some capacity and has indicated he would like to continue as an assistant coach.
- APNZ