Missing out on Champions League place adds pressure on club to hold suitors at bay.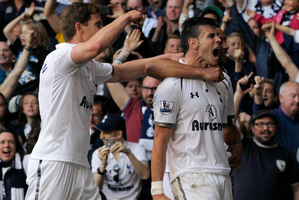 After Arsenal claimed the desperately fought-over final Champions League place, Tottenham Hotspur head coach Andre Villas-Boas insisted that his club, who agonisingly missed out by a single point, had to hold on to Gareth Bale if they were serious about competing with the top four next season.
As a relieved Arsene Wenger hailed his "exceptional" players, Villas-Boas reiterated his belief that Spurs will be able to fend off suitors for Bale even though he will not play in the Champions League.
Spurs are determined to reject bids if they are received.
"It's very, very difficult to lure a player of this dimension away," Villas-Boas said after watching Bale score the only goal - his 26th of an astonishing season - as Spurs beat Sunderland 1-0 to finish on 72 points.
It is their highest total of a Champions League campaign but it fell one short of Arsenal's mark after their north London neighbours triumphed by the same scoreline away to Newcastle United.
Plenty of debate will now focus on Bale's future. But Spurs remain confident that, despite the disappointment, the 23-year-old, who signed a new deal last year and may be offered another one this northern summer, does not want to leave the club and they will certainly not sell to another Premier League outfit.
The strongest suitors could be Real Madrid with suggestions from Spain that president Florentino Perez has already promised the prospective new coach Carlo Ancelotti - who, as was confirmed yesterday, is leaving Paris St-Germain - that he will try to sign Bale.
But Bale enjoys a very strong relationship with Villas-Boas, who is determined to keep him and also issued this warning to the Spurs board whom he is urging to invest: "If you want to make it better next season then you hold on to your best assets."
Villas-Boas reiterated his desire that Spurs spend quickly in the transfer window to try and challenge again next season.
There was a bizarre moment during the match at White Hart Lane when the home crowd thought that Newcastle had equalised, although this could have been due to an erroneous message on Twitter by Spurs' former chairman Lord Sugar who, in a tweet, suggested the score was 1-1.
Spurs captain Michael Dawson admitted: "Yeah, I thought that was it [Spurs in the top four] because of the celebrations around the ground from our fans. I didn't hear anything else, then towards the end after Gaz [Bale] scored I sort of picked things up that the fans weren't as lively as we would have liked if we had been in the top four, and you sort of got that feeling towards the end of the game."
Wenger said that Arsenal would also spend, having turned around the seven-point deficit they trailed Spurs by at the beginning of March, after losing at White Hart Lane, tofinish above them for the 18th consecutive year. Laurent Koscielny's goal also secured a 16th consecutive season of Champions Leaguefootball under Wenger.
"I'm proud of the character, spirit and all we had to deal with in the season," the manager said. "These players are special. In the last two months they have been absolutely exceptional.
"Everyone ruled us out but we showed character and attitude to come back. We made 73 points and that is three points better than last season."
Wenger's relief was palpable and although he has been in charge of title-winning sides he hailed his present squad at Arsenal.
"It is one of the best groups I've had in my life on that front."