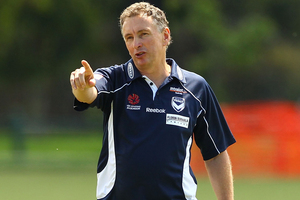 New Wellington Phoenix coach Ernie Merrick wants seven new players for his squad although he doesn't have as much flexibility to sign new talent as he may have preferred.
Merrick was confirmed as Ricki Herbert's replacement today and will start on June 5.
There are 15 players on the Phoenix's books for next season but the major issue is there is only one more import spot available.
Each A-League side can carry five overseas players and the Phoenix already have Paul Ifill, Stein Huysegems, Benjamin Totori and the incoming Carlos Hernandez locked up for next year.
Utility Alex Smith won't return from last year's group while it seems increasingly likely that Spanish midfielder Dani Sanchez will not be offered another contract.
"I really believe out of the seven players, three of them need to pretty well key players," Merrick said today at his first press conference as Phoenix coach.
"A couple of middle, midfield type players. Transition needs to improve out of sight, which is your possession rather than the long ball and I think we need another striker with speed and ideally I need another high-quality defender."
The options open to Merrick mean his incoming players will have to be Kiwis and Australians and he hinted there were a couple of players from the club's school of excellence that may make the step up.
Experienced left back Tony Lochhead is currently off-contract but would be a logical player to retain despite having a mixed season last year in a beaten side.
Merrick also needs to find another goalkeeper following Mark Paston's retirement and although youngster Scott Basalaj looks like a ready-made replacement it would do little for his development to have him spend the season on the bench behind Glen Moss.
One option that could help free up some room to move would be if the Phoenix bought Totori out of his contract given he didn't show a lot of advancement last year.
Merrick had watched about 10 of the Phoenix's games from last season but said he had some study to do during the next few weeks as he looked for areas to implement change for the wooden spooners.
"I've just been given some more DVDs to watch. I see areas of development. Football's a fairly simple game. It's get the ball and then get up the other end and put it in the net and there's a few strategies that I'd like to implement to improve on that and I think we've got the players to do it."
As for what style he wanted to impose on the side, Merrick said: "I'm a great believer in a solid back four. But the two fullbacks are wingers. If they're not wingers they're just doing one job rather than two. Midfielders that are good in allowing the ball to transfer from the defence to attack and I've always employed those type of players."
Merrick worked with Hernandez when the pair were at the Melbourne Victory and what players the club can surround the talented Costa Rican with this season will determine how successful they will be.
- APNZ