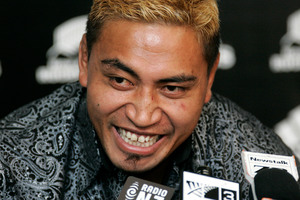 Former All Black Jerry Collins is still unable to talk about his dramatic encounter with knives, a Japanese department store, and a violent Brazilian gang that landed him behind bars earlier this year.
But the giant rugby star is back in training, as fit as ever, and keen to pick up a top level contract with a European club, his manager says.
"Jerry doesn't want to talk about what happened at all, really. He just wants to get on with his life again," said manager Tim Castle, a Wellington lawyer who flew to Japan in March to free his client after details surfaced of his arrest.
Two months after Collins' traumatic ordeal, he is still unable to speak about it.
"He's enjoying some respite from the badness of it all," Mr Castle said today (Monday).
"It's partly a product of getting it all out in the open at the outset. The explanation for what happened was ultimately accepted completely by the prosecution, and we wanted to ensure that in the public domain it was recognised there was nothing sinister about this.
"There's nothing new under the sun. It was a story about a tryst involving a woman and it was nothing more than that. It just had some add ons which made it a bit more different."
Mr Castle admits to being as baffled as the rest of the New Zealand public when details of Collins' arrest emerged.
He jetted straight off to Japan and immediately enlisted a local lawyer to help get his client out of jail.
Collins, 32, had just finished a two-year contract with club rugby side Yamaha Engines Jubilo when he was arrested at a department store in the nearby industrial city of Hamamatsu for carrying two large knives.
He was released from custody after Japanese authorities accepted his story that he'd got himself in trouble with a local Brazilian gang when he had a relationship with a woman who had gangster links.
The former Hurricane flanker was carrying the knives for protection, and had handed himself in after being chased by them through the city streets.
After paying a NZ$1900 fine he was released.
Mr Castle confirmed that Collins is no longer in Japan, but refused to say where he's currently living.
Collins, who played 48 tests for the All Blacks, is now off contract and sizing up his options.
A return to play in New Zealand, while unlikely, has not been ruled out, according to Mr Castle.
"There's no doubt he could play here," he said.
"But it's quite hard coming back. It's not that he's blase, because he treasured the black jersey, and the Hurricanes' jersey. But he's been there, done that, and he's looking for different challenges."
Those challenges appear to be in Europe, where the next season is due to start in July/August.
"He's continuing to train, he's very fit, very strong, and still wants to play. He's still a young man.
"There's interest from different clubs, and we'll see where that takes him," said the manager.
- APNZ