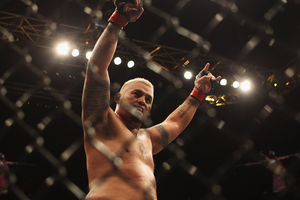 Kiwi mixed martial arts fighter Mark Hunt will board a plane to head to Las Vegas tonight but the question remains whether he will have enough time to acclimatise ahead of his heavyweight showdown with Junior dos Santos at UFC 160 on Sunday (NZT).
The 39-year-old, who has a 4-1 record in the UFC, could be one knockout away from a world title fight but has been held up in his travel to the US due to visa issues.
He wanted to depart nearly two weeks ago but has been held up in a bizarre lockout from the States, which appears to have been down to his existing visa not being transferred from his old passport to his new one.
That led him to apply for a new visa but a 2002 arrest following an incident outside a nightclub provided another hurdle to jump over.
Hunt's trainer Steve Oliver said today that the shorter preparation time in Las Vegas would be tough to overcome.
"He's in a good place," Oliver said of his star pupil.
"He's the fittest, he's the best I've ever seen him, he's ready to go. They can play all the games they like, it isn't going to stop this guy."
Hunt, who made a name for himself on the K-1 kickboxing circuit in the early 2000s, has won his past four fights in the UFC and his devastating striking power has sent a shockwave through the heavyweight division.
He originally wanted three weeks to settle himself in Vegas ahead of the bout at the MGM Grand Arena. Hunt has fought previously in the US after arriving only four days before but said that wasn't long enough to acclimatise.
Oliver said Hunt hadn't spent the past two weeks sitting on his hands and the long trip would give him a good chance to rest.
"He's had a great weekend. We pushed him hard over the weekend so he's ready for a break now. So we'll use that and we'll fly over and maybe do a bit of light pad work in the first couple of days just to get the heart pumping, get the blood flowing but nothing too hard."
Following the good news that Hunt had received clearance to travel to the US this morning, he tweeted: "Thank u for my visa father."
Hunt has stepped in for Alistair Overeem, who was scheduled to fight the 15-2 dos Santos, but pulled out with an injury.
- APNZ