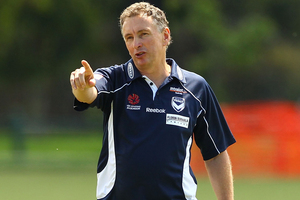 The Wellington Phoenix have appointed the A-League's most successful coach, Ernie Merrick, as the club's new head coach.
He replaces Ricki Herbert to become just the second manager at the franchise.
Merrick had a successful spell managing Melbourne Victory from 2005-2011 and last coached the Hong Kong national side but finished his role with them late last year.
Herbert stepped down as manager near the end of last season before the Phoenix finished the A-League in last place, winning just seven games.
60-year-old Merrick managed the Victory to two titles during his time at the club and was named A-League coach of the year in 2007 and 2010.
Merrick's record of two premierships, two championships and three grand final appearances gave him the edge over some talented coaches, the club said.
Merrick said that he was excited by the new challenge.
"My coaching philosophy has always been about winning. That's what I will be bringing to the Phoenix," Merrick, who has signed a two-year contract with an option for a third year, said.
"I'm also happy to be back in the A-League.
"I had six years at Victory but this is a new challenge entirely. It is unusual for one team to represent a country and it presents me with a great challenge.
"There is great potential at the club and there must be a lot of talented young players in New Zealand to draw on.
"I focused on producing young players at the Victoria Institute of Sport and at Melbourne Victory, and one of my most important roles at the Phoenix will be to provide input into the type of structure that will groom up and coming players for the first team."
Merrick said his first priority would be to sign players for two or three crucial positions and then to make sure there was a production line of young players coming through.
"That is something I tried to ensure at Victory because you are always going to have injuries and players called up for international duty.
"To make three grand finals in four seasons as we did at Victory we had to keep new players coming through."
If Merrick impressed the club during the selection process, the feeling was mutual.
"The owners and board are determined to bring stability to the Phoenix, and they impressed me as people who want to set up structures and a playing style rather than just try and buy success season after season," Merrick said.
One of the players Merrick will inherit is his former Victory star Carlos Hernandez who will join up with the Phoenix next month after a stint in India.
"Carlos was obviously signed before I was appointed but I know him well," he said.
"He has tremendous technical skills and can score goals as well as assist others to score them."
Merrick will take up his duties on June 5 and said he was already planning his first season's full programme.
Ernie Merrick at a glance
- Born Edinburgh, Scotland
- Most successful coach in A-League history: A-League Premierships in 2006-07 and 2008-09: A-League Championship 2006-07 and 2008-09.
- A-League Coach of the Year: 2006-07, 2009-10
Coaching career:
1987-1988: Preston Makedonia
1989-1991: Sunshine George Cross
1992-2004: Victoria Institute of Sport
2005-2011: Melbourne Victory.
2011-2012: Hong Kong national team
- APNZ