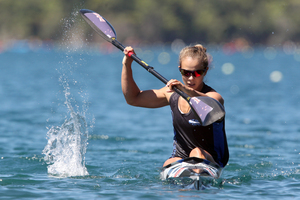 Lisa Carrington is making a habit of turning heads in the paddling world.
The Ohope kayaker shot to prominence by winning the world K1 200m title in Szeged, Hungary two years ago, backed it up with Olympic gold in London last year and with two World Cup crowns in the Czech Republic at the weekend, reinforced she is among the most talented paddlers in the sport.
She owns the 200m discipline right now, winning last night in 41.420 seconds, holding off Russian Natalia Podolskaya (41.693s) with German Tina Dietze third in 42.390s.
That followed winning the K1 500m discipline 24 hours earlier.
The 23-year-old admitted she was chuffed with the win in the longer distance. A week ago she won the B final over that distance in Hungary before making the substantial jump to the top of the podium in Racice.
Carrington, second in her heat and first in her semifinal, clocked 1min 48.55s to head home Austria's Vyonne Schuring (1:50.620) and Germany's Katrin Wagner-Augustin (1:51.980s).
"Last week I had a few nerves, just trying to rememeber how to race a 500," Carrington said from Racice.
"Gordy (coach Gordon Walker) and I worked out what we needed to work on over the last week. It's cool we were able to quickly apply and change it, to make sure I'd have a better race."
Carrington described the 200m as her "bread and butter" discipline. She suspects the depth is greater in the 500m, and that's part of the reason for her delight.
"There are a few girls missing out of the 200m, although it's still really quick because of the calibre of athletes.
"But the 500m does have a few past world champions, Olympic champions, so it is a bit intimidating to come up against these women you've idolized, or seen to so well in past year.
"It was cool, I guess, it's awesome to win but what will count is August in Duisberg," she added, referring to the world championships.
There was an improved performance from former world champion Ben Fouhy in the K1 1000m. Having finished third in the B final at Hungary, Fouhy, who won his heat and was second in his semifinal, before finishing seventh in his final.
Fouhy recorded 3:30.909, four seconds behind winner Rene Holten Poulsen of Denmark, but is clearly making progress, according to head coach Walker.
"That was his best paddle I've seen in many years," Walker said. "It was a huge improvement for him and mentally he's conditioning himself better."
K2 women, Rachel Dodwell and Teneale Hatton had a tough weekend, finishing ninth in both their A finals, over 500m and 200m.
However Hatton came close to bagging a third medal for New Zealand in the marathon K1 5000m. She won the silver medal in the race in Hungary and this time finished fourth in 22min 36.2s.
Fouhy finished 13th in the final race of the regatta, the men's K1 5000m, clocking 20:49.2.
Young combination, Daryl Fitzgerald and Jasper Bats were fourth in the B final of the K2 500m.
New Zealand lined up in seven A finals over the weekend, testimony to developing depth within the squad.