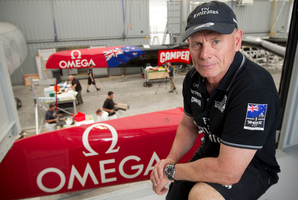 Team New Zealand boss Grant Dalton is concerned rivals are using the recent tragedy involving Artemis as an opportunity to push their own agendas for the America's Cup.
But it is not Patrizio Bertelli, the outspoken owner of Luna Rossa, that is giving him cause for concern, with Dalton confident the views of the two syndicates on wind limits for this year's regatta now align.
Since the Artemis boat capsized in a training exercise in San Francisco Bay a week and a half ago, claiming the life of British sailor Andrew Simpson, the safety of the high-powered AC72 catamarans that teams will race in this year's event has been called into question.
A review committee headed by regatta director Iain Murray has been formed to look into the events leading up to the fatal accident and will make recommendations to race organisers about how to make sure racing is as safe as possible.
Early speculation is that sailing times could be altered and allowable wind speeds dropped to factor in a new safety element - a move that would disadvantage Emirates Team New Zealand.
Dalton said his team made trade-offs with the design of their boat to ensure it was robust enough to cope with the wind range set down in the protocol, and extensive testing had shown their boat was reliable in heavy conditions.
"[Simpson's death] is an absolute tragedy, it really is, and our only hope is teams don't try and manipulate the environment to suit their own ends with rule changes," said Dalton from the team's newly constructed San Francisco base. "We've had 50-odd days sailing in the AC72s and we believe these boats are inherently quite safe."
Bertelli has been the most outspoken on America's Cup safety, demanding a "formal commitment" from organisers to make changes before he would confirm his team's entry.
"We will not be at this slaughtering game [unless guarantees are made]," he said.
After meeting Cup authorities over the weekend, Bertelli called for wind limits - a top of 25 knots for the challenge round, 28 knots for the challenge final and 33 knots for the America's Cup - to be reduced to 20 knots and 25 knots.
His initial demands were at odds with views of Team Zealand, with with whom he has enjoyed a close working relationship in this Cup cycle, but Dalton said after meeting Luna Rossa bosses that the two syndicates had come to an agreement on wind speeds.
"The deal they originally put on the table of 20 and 25 is now off the table and Luna Rossa and Team New Zealand are now aligned with what we think those wind speeds should be," he said.
He declined to say what those wind limits were, citing the need to respect the review committee process.
Dalton says it is business as usual for his team as they ready their boat for its first sail in San Francisco on Friday. Despite the tragedy that unfolded on the Swedish boat, Dalton said there would be no hesitancy from his team to get out on the water.