Youthful squad found wanting in detail of tight five labour, decisions and delivery.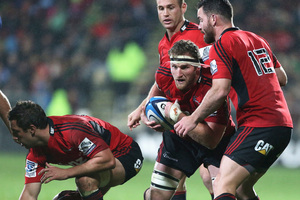 The Blues gave it plenty but were not in the same class as the Crusaders.
Certainly not in the same ballpark when it came to the serious detail of tight five labour, decisions and delivery.
As the weather closed in, the Crusaders eyed their Super 15 revenge mission with growing relish. This was a match where the fundamentals and quality of rugby would count.
Statistics show the Blues with numerical advantages in many areas. They made more carries, more clean breaks, conceded fewer turnovers and had less set piece ball.
But the possession the Crusaders got on Saturday night was sounder, especially from their scrum. Their discipline was also up a notch.
As conditions narrowed the opportunities, the Crusaders compressed their intentions and went to work. Their gnarly pack ground out the tough metres to allow Andy Ellis, in his 100th game for the franchise, and Daniel Carter to control decent chunks of tempo and territory.
Victory allowed the Crusaders to leapfrog the Blues on the points table as they now set themselves for the journey north to tangle with the Chiefs on Friday.
The Blues return to their Eden Park headquarters where they will square off against the Brumbies, who fell to the Waratahs, but remain in the lead in the Australian conference.
Saturday's confrontation is another gauge for the improving but youthful Blues squad with a result almost imperative if they are to continue their run at the playoffs. They were still in the game at halftime although they were a man down after Culum Retallick was sinbinned right on the interval.
When the sides emerged for the second half the Crusaders used their extra man advantage to squeeze the Blues with several rolling mauls which led to Owen Franks' decisive try. The hosts kept a chokehold on the Blues until late in the clash.
Replacement midfield back Francis Saili made several breaks and from one Frank Halai planted the ball at or near the corner post but not close enough according to TMO Keith Brown.
In the last piece of action Rene Ranger broke clear, too, but was reined in by the Crusaders defensive screen which had scrambled and covered well for much of the match.
For most who surveyed the match, the outcome was no surprise.
Kieran Read's return added the direction and starch the Crusaders wanted and their All Black contenders are pushing towards the June 2 squad selection for the test series with France.
Other factors pushed their buttons, too. They had been embarrassed three months before in the opening duel at Eden Park and did not want to end up like test fullback Israel Dagg who was relegated to the bench.
The All Black selectors watched from the stands and they too, probably nodded their appreciation that a number of players were getting their act together.