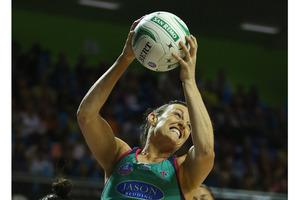 The Queensland Firebirds made a big statement with an 11-goal transtasman netball league victory over fierce rivals Melbourne Vixens yesterday then dedicated the triumph to absent captain Laura Geitz.
Both teams went into the match with 6-1 records but the Firebirds had powerful extra motivation as they won 57-46 to inflict the Vixens' first loss on their Hisense Arena home court this season.
The Firebirds were determined there would be no repeat of last year's encounter when, as defending champions, they lost on the final siren after controlling most of the game.
Their thoughts were also with skipper Geitz, who missed the match following the recent death of her father.
"It's been a tough week and I am so proud of the girls, they've been incredible ...
"Geitzy, we love you," said acting captain Natalie Medhurst, after her team led at every break.
Firebirds coach Roselee Jencke said the win was sweet after the 2012 match.
"We came here last year and we had a nightmare last eight minutes and that really, really sits heavily on our shoulders," Jencke said.
"To be able to work away and know that we have had a team performance today is very pleasing.
"I am really rapt for the girls. We have had a big week and we fought it out.
"There was great composure and you can't ask for more."
Goal attack Medhurst (21 goals from 26 attempts) and goalshooter Romelda Aiken (36 from 41) were unstoppable, stretching tough Vixens' defenders Geva Mentor and Bianca Chatfield all match.
"I'm really happy with the performance today against a quality opposition," Jencke said.
There is some doubt over whether Vixens veteran shooter Sharelle McMahon will be fit for the clash against the Steel, having lasted barely 15 minutes before clutching her troubled Achilles tendon.
She eventually sat out in the third quarter.
The Adelaide Thunderbirds beat the NSW Swifts by two goals after chasing the visitors' tail for much of the match.
The Swifts challenged the Thunderbirds and led at every change in what was a tightly held game at Netball SA stadium, but Adelaide showed enough composure to seal the match 50-48.
Firebirds 57
Vixens 46
Thunderbirds 50
Swifts 48
- AAP