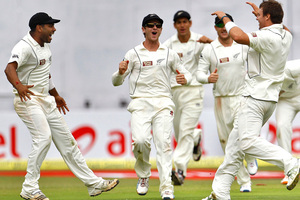 The sight of New Zealand fielding the same test XI for a fourth consecutive test is rare.
In fact, a look at the archives suggests it has never happened.
What a change for a country used to seeing players hobbling from the field, teams jury-rigged until the ends of tours and terms like ``stress fracture'' and ``medial ligament strain'' becoming part of the common vernacular.
Chris Donaldson, take a bow. The former Olympic sprinter was appointed the team's strength and conditioning coach in July 2011. His contract extends to the World Cup. He came from a background with Otago Cricket, the New Zealand winter Olympic team and the Silver Ferns.
Donaldson has managed to employ a policy where fitness levels have been sustained and players - barring unfortunate accidents like BJ Watling's left knee injury attempting a run out on the third day of the opening test - keep taking the field.
The main bullet point on Donaldson's cricketing CV has been pace bowler wellbeing.
Tim Southee, Trent Boult and Neil Wagner have maintained their fitness and speed for sessions at a time since the first test against England at Dunedin in March. Southee came into this test with a foot injury but has not been too troubled, apart from exiting briefly to fix a blistered toe.
Donaldson says his first priority is adapting players to the rigours of force on their bodies such as bowlers' impact at the point of delivery or batsmen stretching to play shots.
"That's the biggest breaking point so I try to put significant loads on them so they become faster and stronger.
"I've taken a lot out of my sprint training. There's not much downtime in our schedule so in the three weeks leading to the tour we did a big conditioning block. There was a significant lifting component and high intensity running. That doesn't just mean long distances; it includes sprint variations. We also did some ballistics [the term for when an athlete lifts, accelerates, and then releases weight in an explosive manner to build up fast-twitch fibres].
"Ultimately their cricket needs to get better, otherwise it's not a success, but the players set a number of personal bests recently in our tests which included a dead lift, a squat, a bench press and bench pull. There were also 10m, 20m and 30m running challenges and a yo-yo aerobic test [like a beep test]. The bowlers are probably the strongest across the board - Trent Boult's gone through the roof - but Martin Guptill was a big improver.
"There is also emphasis on recovery ice baths and nutrition, so bodies have enough energy to allow tissue to heal and adapt after workouts. Players often spend up to three hours with little going in, so we have to bolster them with protein shakes.''
Pity the players when it comes to the bonanza of cakes teasing them during a Lord's afternoon tea.
Donaldson's determined to change a common perception cricketers are poor excuses for elite athletes.
"These guys are motivated and see the benefits with playing back-to-back tests over five days. Comparing themselves to one another breeds healthy competition.''