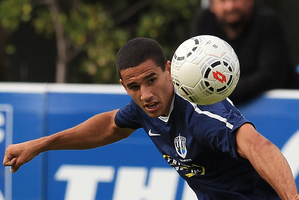 They may have been second-best all season in the Super City rivalry, but Auckland City today won the one that really mattered to earn another trip to the Club World Cup.
Auckland won their third Oceania Champions League title in a row, edging old sparring partner Waitakere United 2-1 at Arena 2 at Mt Smart Stadium today.
Having lost four of six matches against Waitakere this season, Auckland turned the tables of their neighbours thanks to first-half goals from Adam Dickinson and Alex Feneridis. Waitakere equalised before halftime, but defender Tim Myers' dismissal inhibited any attempted comeback.
Auckland were rewarded for their victory with a spot in this year's Club World Cup in Morocco and the US$500,000 cash prize which comes with it.
Despite the two teams' duopoly on the competition having previously seen the Auckland sides win five of the last six O-League titles, today was the first occasion the rivals met in the tournament showpiece.
It was hardly a thriller, unlike Waitakere's 4-3 win in the ASB Premiership final, but that will not concern the champions. They will again be able to test themselves against some of the world's best teams, while Waitakere will have to be content with their three-trophy haul from this campaign.
Having been successful in the previous two finals, Auckland were the only side in the game in the opening 15 minutes as their opponents battled into a stiff breeze.
Dickinson was lively in the front third for Auckland and he was rewarded for his toil after quarter of an hour, left with a simple finish after Robinson could only parry Manel Exposito's low cross.
Waitakere needed to respond to the goal but, instead, Auckland had soon doubled their lead. Little looked on when Feneridis received the ball some 25 metres from goal, but his fierce drive skipped past Robinson, who should have done better.
Facing a long way back, Waitakere finally tested Tamati Williams after 20 minutes, though Roy Krishna's long-range shot lacked the venom of Fenerdis'.
Waitakere were still struggling to string together passes in difficult conditions, but the breeze soon came to their aid. Krishna ran onto a dinked pass over the top in the 40th minute and, with the ball holding up in the wind, Williams was left in no-man's land, allowing Krishna to square to Coombes for a tap-in.
The goal saw Waitakere head to the break well in the game, knowing they would also have the wind at their backs in the second spell.
But, if anything, Auckland were looking the more likely to add to their tally when the half got underway, with Exposito shooting wide from a tough angle and Dickinson having another effort saved by Robinson.
And Auckland's control was only enhanced on the hour when Myers was shown a second yellow card for a late challenge on Exposito. Waitakere continued to battle manfully but their 10 men were unable to unlock the Auckland defence and Williams was never seriously threatened in the final frantic minutes.
Auckland City: 2 (Dickinson 16, Feneridis 19)
Waitakere United: 1 (Coombes 40)
HT: 2-1
- APNZ