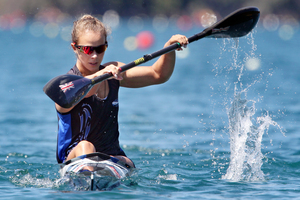 Kiwi golden girl Lisa Carrington again demonstrated her fondness for that particular hue, taking out the K1 500 at the second World Cup regatta in the Czech Republic last night (NZT).
Carrington, who claimed gold in the K1 200 at the London Olympics, showed her versatility by winning an event she is merely testing out as an extra challenge.
It's fair to say the tests are going rather well and after taking out the B final at the opening World Cup regatta in Hungary earlier in the month, Carrington went one better yesterday with in Racice.
After winning the fastest semifinal to earn the top lane, Carrington powered her way to the front of the race and never looked close to being challenged, finishing 2.1 seconds ahead of second placed Yvonne Shurring of Austria.
Carrington's time of 1:48.55 is good enough for the seventh-fastest in history, only 1.5 seconds outside of the world record. Though the field was of lesser quality than at the London Olympics, Carrington clearly beat the sixth, seventh and ninth-ranked women in London.
She will now attempt to make it a golden double in her favoured sprint event, with the final set for tonight (NZT). Carrington won both her K1 200 heat and her semifinal overnight, showing no ill-effects from her earlier exertions.
Carrington's feats went unmatched by her Kiwi teammates, with Teneale Hatton and Rachael Dodwell struggling a little in the K2 500 A final, crossing the line in ninth.
It was still a personal best and an impressive performance from the newly-formed women's crew, racing together this season for the first time after Hatton went to the London Olympics in a solo boat. New pairings often have difficulties in the early stages and take time develop the teamwork needed but the two young paddlers have made great progress in a very short time.
Hatton and Dodds also came back strongly later in the day to qualify directly for the A final in the shorter 200m race.
Ben Fouhy continued to show a good trend in his race results, moving himself into the A final of the K1 1000m in what was considered a very strong field.
After winning through to the final behind German world record holder Max Hoff, Fouhy finished seventh but will still be relatively pleased with his progress.
In the K2 1000, the two Kiwi crews both raced in the B final, with the pair of Jasper Bats and Darryl Fitzgerald coming out the best of the Kiwis by finishing fourth.
- APNZ