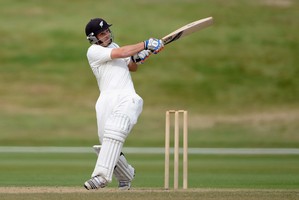 When the subject of New Zealand's recent test cricket improvement is raised, phrases like "quality young pace bowling line-up", "promising top six" and "innovative captaincy" roll near the top of the performance credits. One area of excellence tends to be overlooked: the wicketkeeping and batting of BJ Watling.
It's easily done. Watling doesn't publicly trumpet his achievements. Even on the field he could best be observed as buoyant or chirpy rather than extrovert. He appears reticent as far as keepers go, preferring to hear the thud of ball swallowed by gloves than his own voice. Besides, his statistics are doing the talking.
In the seven of his 14 tests he has played as wicketkeeper, including the first innings at Lord's, Watling has 22 dismissals, all catches. That's 2.2 dismissals per innings. The next best, of the 28 players to have kept for New Zealand, is Brendon McCullum on 1.849. The country's other most enduring glovemen, Adam Parore and Ian Smith, had figures of 1.661 and 1.614 respectively.
The dismissals-per-innings figure is not the definitive wicketkeeping quality but it indicates Watling rarely fluffs his lines.
Byes are also uncommon under Watling's watch. Quite often they come from bowlers slinging a delivery down the legside which a forgiving umpire fails to label wide. In summary Watling gives away one bye every 221 balls or 36.5 overs. It suggests a level of concentration which is seldom thwarted. If one is to be picky, a few stumpings might be further reassurance he is the complete package.
Watling has also added spine to the batting at No6 or 7. Despite success opening at domestic level, his early tests suggested he would not cut it internationally. However, put him in the middle order against the older ball and he looks comfortable.
Since Watling's wicketkeeping renaissance in the middle order he has averaged 46.12 compared to 31.35 overall. Four of the five times he has passed 50 have come since dropping down. Yes, he had the luxury of facing a weak Zimbabwe attack to plunder his maiden test century but no one can cherrypick their opposition. Conversely, heapplied himself to be second to Dean Brownlie in the averages of therecent series against South Africa. He made 42 and a pair of 63s after an initial duck in the Cape Town 45. He can be elegant to watch. Using a high left elbow, he strokes the ball crisply and has a solid defensive screen.
Watling's selection as a gloveman remains a key legacy of former coach John Wright. He reasoned Watling would bolster the middle order - especially as a trained opener against any second new ball - and thought him useful with the gloves.
A hip injury before last year's South Africa series after his maiden century and four catches against Zimbabwe threatened his progress when Kruger van Wyk took his chance but Watling has since won the spot back. He must be one of the first names inked on the team list.