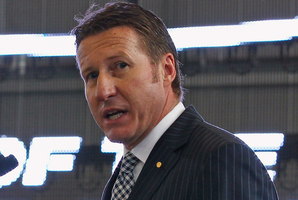 Yet another manufacturer looks set to join V8 Supercars next season, with chairman Mark Skaife expecting an announcement by Christmas.
Chrysler is being heavily linked with upgrading its status from supplier of the safety cars to a full-blown entry.
As the V8s make their American debut at the Austin 400 in Texas this weekend, buoyed by Nissan's start to life in the category, speculation is rife of talks between an existing team and the US carmaker.
Chrysler were also linked with a possible 2013 entry, though it didn't progress beyond the discussion point.
That was before the V8s started a five-year deal to race in the US and the addition of Nissan and Mercedes. Both may be game-changers for an American company trying to grow its brand in Australia.
Skaife has warned any futureinternational V8 expansion must be sustainable and sensible, not the rent-a-category model which took them to the Middle East amid sparse crowds and general apathy.
The five-time V8 champion says going where there are link-ups for sponsors and manufacturers is key to getting expansion right. "If we had a Korean manufacturer, it would make sense to have a race in Korea. I know there's been plenty of discussions with Nissan about having a race in that part of the world.
"If you take it to places like Bahrain and Abu Dhabi, and you don't have people there whoappreciate it, then it doesn't do the best thing for the business. Americans will love this sport."
After the first day of practice it was the drivers who agreed it's America the beautiful.
Holden's Craig Lowndes set the fastest time in practice and the sport's newest venue won rave reviews.
Lowndes, who rocketed around the Circuit of the Americas in 1m 32.9042s - the fastest time in the four practice sessions - likened its spectacular elevation changes to Bathurst.
Ford driver Will Davison, second fastest for the day, called it a circuit that needed to be driven "balls-out".
Holden Racing Team's Garth Tander was third quickest in a Commodore which will soon be sold in the US as a Chevrolet, and emerged from the car convinced the American experiment will prove a great success.
"For us, it's a massively worthwhile exercise ... it's a great opportunity for us to showcase Australian racing in America at a fantasticfacility," Tander said. "I was absolutely blown away when I got on the plane just how many Australians were on the plane coming to the race. If that's the measure of how this event has got the potential to grow over the next couple of years, it's going to be a winner."
- AAP