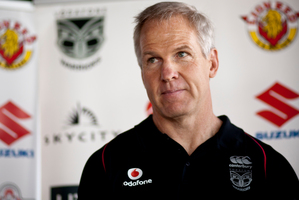 Warriors coach Matt Elliott is playing a risky game with his ongoing protests against NRL refs.
On- or off-field, there is usually only one winner when debating with match officials.
On one level, Elliott had some grounds for complaint, especially in the past month.
After some incorrect calls against the Raiders and Storm at crucial moments, last week's late hit on Glen Fisiiahi by Michael Ennis seemed the last straw.
There is no doubt the Warriors sometimes suffer. Imagine if a charging Russell Packer, eyes only on the man, had taken out Bulldogs glamour boy Ben Barba. Everybody knows the referees would have found a relieving penalty, instead of a line dropout.
But the incident occurred as the Bulldogs were charging home; the Warriors were hanging on but it was fingernails down the cliff stuff. The decision was a big momentum changer but it wasn't the only reason the Warriors lost the match.
Neither were the decisions against the Storm and Raiders. The defeats were of their own making and the refs' mistakes just made the losses more bitter.
Elliott's public pressure may pay off, with the referees starting to give the Warriors a fair crack, especially across the Tasman. Maybe he is just channelling the frustrations his predecessors, from John Monie onwards, have felt over the years as the Warriors consistently fail to get the rub of the green.
But it may also backfire. The refs are only human and won't have appreciated the comments around their consistent incompetence, nor will their boss Daniel Anderson.
Whatever the validity of Elliott's protest, maybe they would be received more favourably if they had been raised behind closed doors rather than through the media.
Elliott also risks building an excuse-driven culture at Mt Smart that can seep into players' mentalities. It's okay to build a seige mentality ("everyone's against us..."), like Des Hasler did at Manly when you are winning but it's harder when you keep losing.
There is a view that some teams, especially those coached by Craig Bellamy, Hasler and Wayne Bennett, seem to get preferential treatment on occasions, just as golden boys like Cameron Smith and Greg Inglis receive the benefit of the doubt from NRL referees. But that's common across all sports and is partly due to the respect that such greats have earned over the years.
While Elliott has made some reasonable points, perhaps his captain struck at the crux of the matter.
"It's too hard to be stuck at your own end for 40 minutes and try to hold on," said Simon Mannering. "It is disappointing with some [of the decisions] but we have to make sure we are not giving referees the chance to make those calls and change [the outcome of] games."