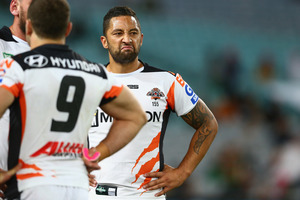 Friday's fixture between the Tigers and the Rabbitohs did nothing to improve Benji Marshall's form. If anything it heightened the awareness of how poor it is. The news of his demotion to the bench was a bombshell and the hope it would spark something within the team did exactly the opposite.
Coach Mick Potter had the unenviable job of trying to right the ship and his "all or nothing" tactic of benching Benji produced exactly nothing. There are other players who needed a rocket up them, not just Marshall. Doing the same to them would have seen a more collective and beneficial response.
To start with, this franchise is dysfunctional from board level to the players. There is no confidence in Benji and his team and that last performance was embarrassing to the fans.
The sight of him running across field trying to find an opening while the team was flat-footed left him floundering and second-guessing his next play; this is leading to his frustration.
The team is lacking confidence and not helping themselves; they are standing, watching and waiting. Compare that to the enthusiasm shown by the Rabbitohs where every player is moving forward on every play and chances create themselves.
The lack of confidence in the Tigers, their injury toll and the drama at board level being aired publicly has its part to play in why the situation is dire.
Benji's admission of being a shadow of himself, with little confidence, and reverting to viewing old footage of himself to recapture something was the biggest mistake he could make.
If he has to try to inspire himself by watching himself, it translates to the self-centred world he has encased himself in.
Most sports people who want inspiration, look to others and find a stimulation to motivate them, not look at their own feats. Watching yourself will do the opposite and only expose how badly you are playing.
Friday night showed Benji trying too hard to involve himself in the game after coming from the bench. He overplayed his role and constantly cut off up-and-coming playmaker Curtis Sironen as the youngster tried to spark something. Such is Benji's current mentality that more is good; however a more contrasting approach of less is more, is required.
Benji needs to take time out, reduce what he is doing on and off the field and go back to basics. Yes, it's a well-worn statement, but it's still true: give up the media and reduce the other distractions that take you away from your primary focus. It is a matter of finding balance in your life and not about doing more; he must remember how and what got him to the top.
He must have a mindset that it's not all about Benji and extracting the best in others will extract the best in him.