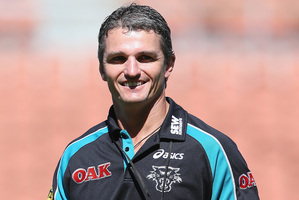 He's been gone for more than 18 months but former coach Ivan Cleary continues to cast a shadow over the Warriors. Regardless of last night's result in Penrith, Cleary represents a glorious past that seems a long way away.
Leaving aside the 2011 grand final appearance, he also took the club to the play-offs on three other occasions and rebuilt a franchise that was on its knees following the difficult exit of Daniel Anderson, the failed reign of Tony Kemp and the salary cap scandal.
Now in charge of the Panthers, Cleary has snaffled some of the Warriors' best young talent (Lewis Brown and Elijah Taylor), with possibly more to come. It wouldn't surprise - depending on what happens with Sam Tomkins - to see either Glen Fisiiahi or Kevin Locke at the foot of the Blue Mountains.
Cleary also left Auckland clutching the instruction manual entitled 'How to get the best out of Feleti Mateo, Shaun Johnson, Kevin Locke and Jacob Lillyman' (among others).
Neither Brian McClennan nor Matt Elliott (so far) have been able to get their hands on a copy.
There were some raised eyebrows but Cleary's departure was not universally lamented at the time. He was too conservative, he wasn't the coach to take them to the next level, he had done all he could. Now many look back on the Cleary years with sepia-toned fondness.
"My time at the Warriors set up my coaching career," Cleary told the Herald on Sunday. "It taught me the job. And the Warriors is a hard job, with all the travel and the other challenges they constantly face from being the only team in the country."
Cleary also sees some parallels in his rebuilding job in Auckland and Penrith.
"At the Warriors, we could start with a bit of a clean slate," reflects Cleary. "A lot of players had left at the end of 2005 and Wayne [Scurrah], John [Hart] and I were all new.
"Young guys like Russell Packer and Ben Matulino were heavily targeted by other clubs and getting them to stay was crucial for the future as others followed. I had the same kind of mandate here but it was also a matter of tearing the old place down; we realised we wouldn't get anywhere if there was no clean out."
The Panthers were a mess when he arrived, with disharmony off the field and poor performances on it. There were back-ended salary deals which saw around 20 per cent of the players taking the majority of the cap. There was also a culture of player power.
Change has been slow and painful. Stars Michael Gordon, Luke Lewis and Michael Jennings left and the team finished second-to-last in 2012. Cleary has recruited heavily but it is still far from a flash roster.
"We are not a fancy team," says Cleary, in an honest appraisal of his squad. "Our roster doesn't stack up against other sides but we are building something here."
Last week's win against the Storm was a massive fillip and Cleary expects the club to steadily improve and become a genuine force by 2015.
"We need to be patient," says Cleary, who was headhunted by football manager Phil Gould. "Your reference points should always be internal rather than external.
"When things aren't going well, you are never as bad as you think you are; when things are going well, you are never as good as you think you are. It always takes just a few little tweaks either way."
Cleary still holds great affection for this country - he spent the New Year period soaking up our exceptional summer - but his bach north of Auckland is on the market, as he severs one of his last ties with New Zealand.
He was reluctant to talk about the Warriors but his record speaks for itself. His recruitment, selection and man management improved over his stint at the club and under his watch all three teams were in action on grand final day in 2011.
Perhaps the most significant result came the week before the grand finals, when the Warriors tipped up the odds in Melbourne. It felt like the peak of the six-year project as the Warriors beat the Storm at their own game. Craig Bellamy's men didn't play badly that night, but lost the arm wrestle as the Warriors stormed home in the last 20 minutes.