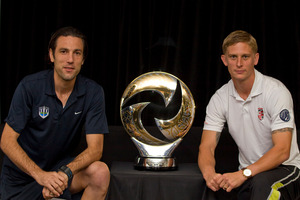 Even though it won't be on the radar of most Aucklanders today, two football teams are playing for the biggest cash prize in New Zealand team sport this year.
On Mt Smart's humble No2 arena, ASB Premiership champions Waitakere United and perennial rivals Auckland City face off in the Oceania Champions League final.
The winner gets a ticket to the Fifa Club World Cup in Morocco and guaranteed prizemoney of at least US$500,000 ($615,000). It's a staggering sum in this part of the world.
Win the NRL Grand Final and you pocket around $480,000; the Chiefs didn't receive any cash for their Super Rugby triumph last year. Nor do the ANZ Netball Championship winners and the Breakers haven't exactly got rich despite winning the last three transtasman basketball championships.
The money is shared , with a portion going to New Zealand Football and each NZFC club , but it is still a huge fillip for the winning team. They get to attend a FIFA tournament with all the trappings and live like professionals for a few days.
It helps attract sponsors and players - participation at the world event has been the carrot for many of Auckland City's large foreign contingent over the last few years.
"I guess we always find it difficult to put football on the map," says City captain Ivan Vicelich. "Leading up to this game it has been a little bit quiet, considering it is the Champions League final and two teams from the same city. It's great that it's on, great that it's on TV - but it would have been nice to get a bit more coverage."
Unlike the Blues and Warriors, who face swarms of journalists at their weekly media sessions, neither football team was visited by a single reporter over the lead-up week, though the joint pre-match press conference on Friday was well attended. It got testy too, with Waitakere coach Paul Marshall reiterating his view that his side holds the edge after four wins and one draw in six games this year.
"I don't think I have been outspoken about it," said Marshall. "I think the results have spoken for themselves. The players are going into this game with high levels of confidence - but this group of players go into every game with a lot of confidence."
Marshall never holds back. He's a 'heart on his sleeve' kind of manager, kicking every ball from the sideline. Since taking over this season, he has built Waitakere into a real force - apart from their record against Auckland they haven't lost an away game in any competition and have scooped all three domestic trophies.
Marshall raised eyebrows with his comments after their derby, with some in the Auckland City squad seeing them as disrespectful.
"Over the course of the season there is no comparison between the two teams," said Marshall after Waitakere's 1-0 win at Kiwitea St. "You only have to look at the results to see that we are well clear of them now."
There is no love lost between the two squads and Marshall's words have added spice.
"That is someone's opinion and he is allowed to say what he likes," says Vicelich . "On the field we have done really well against them. Down to 10 men in the last 35 minutes we came back and scored two goals [before Waitakere got a 93rd minute equaliser] in the ASB Premiership Grand Final. To lose that game was incredibly disappointing but we've bounced back."
"We haven't been good enough to beat them," admitted City coach Ramon Tribulietx. "Obviously they have been better than us and that is a reality. But the good news is we have come back from that; we've reached our maximum level again . We hope we will be on the other side this time."
For Auckland City, the key will be finding a way to stop Waitakere's striking duo of Roy Krishna and Ryan De Vries. Both have lightning pace and City have struggled to contain them, particularly Krishna, this year. Waitakere should be slight favourites though City have arguably the better form over the last two weeks.
Aside from the cash, City stands to claim an unprecedented third consecutive Oceania club title while the West Aucklanders would take all four trophies available to them.
"We just want to win games and win trophies," says Vicelich. "We have been unable to do that this year and even though we have been in positions to do so."
"The season won't be a failure if we lose," says Waitakere goalkeeper Danny Robinson. "A triple is still bloody good. But this one is the biggie - you can't deny that."

The story so far
Auckland City vs Waitakere United 2012-13 Season
ASB Charity Cup Final
Waitakere 2 Auckland 1
ASB Premiership
Waitakere 1 Auckland 1
ASB Premiership
Auckland 2 Waitakere 3
ASB Grand Final
Waitakere 4 Auckland 3
OFC Champions League
Waitakere 1 Auckland 3
OFC Champions League
Auckland 0 Waitakere 1