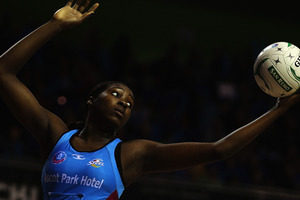 Steel 65
Magic 58
The surprise package of the ANZ Championship continued to shock and now the Southern Steel have a real chance of earning their first playoff appearance since 2010.
The Steel came into today's clash at Stadium Southland level with the Waikato-Bay of Plenty Magic but, after last season's easy-beats defeated the defending champions 65-58, they are level no more.
After earning just two victories in their previous campaign, the Steel have won four in a row and their five victories from eight games see them trail only an Australian trio at the top of the competition.
There is one rather big difference between this Steel and last year's side and 1.98m Jamaican shooter Jhaniele Fowler again impressed, scoring a game-high 44 goals and outclassing opposite number Irene van Dyk (29/29).
Fowler, who came into the contest with a competition-best 93.6 per cent shooting percentage, missed only two goals to enhance that number, while she was ably supported by Jodi Brown (21/24)
But it would be simplistic to attribute the Steel's renaissance solely to the towering presence of the tallest player in the competition. The Steel defence dealt capably with the high-powered Magic attack, withstanding a number of attempted revivals after a huge second quarter handed them the lead.
The Steel doubled up their opponents with 22 goals in the quarter and, after threatening in both the third and the fourth, the Magic were never able to mount a serious comeback.
Having matched each other goal for goal for much of the opening quarter, the Magic took an 18-16 lead into the first break. The visitors maintained the slim buffer at the start of the second but, midway through the quarter, the Steel stormed in front.
The southerners poured in the goals at one end and earned valuable stops at the other, embarking on a 12-2 run to snatch control of the match and head to halftime with a 38-29 advantage.
After starting the second spell as the stronger side, the Magic had soon cut in half the Steel's lead. Fowler finally missed her first shot - and gave Silver Ferns captain Casey Kopua a blood nose while competing for a high pass - but the Steel managed to take a seven-goal lead into the final quarter.
The Steel would have been confident of protecting that advantage in the final 15 minutes, but the Magic had soon reduced the deficit to four goals. But this Steel side are made of sterner stuff than previous incarnations and that was as close as they allowed the visitors to get.
- APNZ