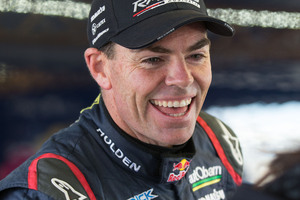 After Kiwi drivers topped the opening three sessions at practice, it was the sport's most successful driver who stole the limelight as the V8 Supercars completed their first stint in the United States today.
Craig Lowndes, who recently became the winningest driver in V8 Supercars, pushed his Red Bull Holden to top of the tree at the Circuit of the Americas in Austin, Texas.
Lowndes was the only driver under the 1m33sec barrier in the fourth practice session, ahead of Will Davison (Pepsi Max Ford), Garth Tander (Holden Racing team) and Jonathon Webb (Tekno Autosports Holden).
Lowndes got to grip with the lack of grip after he spun out in the third session, with tyre wear posing the biggest issue with teams on limited resources.
"It's a great track, very much a European track in similar style to Abu Dhabi," said Lowndes. "It is fast and flowing, it is hard on the tyres and we are limited with tyres this weekend so I think you will see the times degrade."
The opening practice was headed by in-form New Zealander Fabian Coulthard, showing the benefit of laps on the track in a recent promotional tour to head off James Moffat and Shane van Gisbergen.
It was another New Zealander in the form of 19-year-old Scott McLaughlin who stormed to the top in the second practice session just ahead of compatriot van Gisbergen in 1:34.22.
"When you get on the track and you go up the hill, it's pretty amazing," McLaughlin said. "I'm amazed at the undulation. It suits me down to a tee. You've got to keep the momentum up, it's quite flowing and I enjoy it."
Van Gisbergen pushed the Tekno VIP Holden to the fastest time in practice session three in 1:34.53 to edge out Coulthard as the New Zealand trio continued their strong form this season.
However the big boys came out to play in the final session as Lowndes produced a blistering 1:32.90, with van Gisbergen back in 10th, McLaughlin 16th and Coulthard 17th.
Championship leader Jamie Whincup was out of the top-10 throughout the day but he was likely saving tyres. There are two qualifying sessions tomorrow ahead of two 100km races, with a repeat on Monday (NZT).
- APNZ