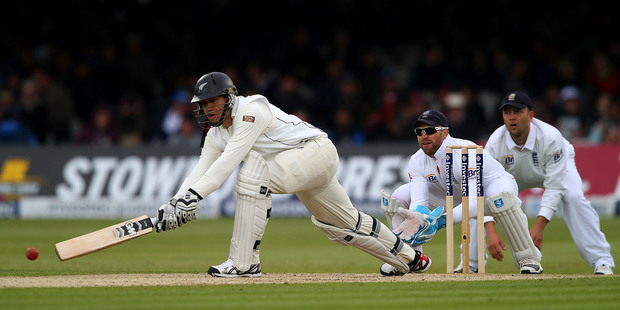 Ross Taylor mightn't adjust the field and deliver the team talks any more in the New Zealand team, but he led by example with the bat against England.
His 66 from 72 balls - including 50 in 49 balls - set the tone for the New Zealand innings, taking them to 153 for four at stumps on the second day of the opening test with a deficit of 79 to clear. Taylor came to the wicket in the seventh over with the score seven for two.
In his post-captaincy tenure the only way he could do more than that would have been to score a century to prove his value as the senior pro.
Regardless of semantics, he showed what was possible on a wicket branded as lacking bounce and carry. His third wicket partnership of 93 with Kane Williamson (44 not out) galvanised New Zealand's reply.
Sure, England only lost their fourth wicket at 157 - New Zealand was 147 - but the speed of Taylor's innings means the visitors' middle order still has 30.2 overs facing the older ball.
The New Zealand run rate is 3.08 runs per over compared to England's 2.06 over the innings. Normally that wouldn't matter as much in a test but here it could be crucial in terms of getting a result, with rain forecast.
"I think England batted timidly but at seven for two the momentum was back with them," Taylor said.
"I didn't intend to counterattack, I just wanted to be positive and play as straight as possible. When you have that positive intent the looser balls come into your area and it was nice to get my cut shot back for a change.
"There is enough in the wicket to keep you honest. Obviously you can get a bit of luck like Nossy [Williamson was dropped by Matt Prior on 23] but I always felt there was a ball with your number on it.
"It's still evenly poised, or maybe marginally in our favour, it depends on how well we start tomorrow. Kane's batting well and Brendon's been in test form so hopefully we can blunt their attack as much as possible, then build a lead."
Taylor admits a big part of their success depends on how they play off spinner Graeme Swann who got early purchase from the footmarks of left-armers Neil Wagner and Trent Boult.
"Everyone is different but, as we've seen in the West Indies, Sri Lanka and India, every time we let a spin bowler settle it works against us. If we have a positive intent, get singles and rotate the strike then hopefully we're not bogged down.
"Facing him in the fourth innings will be tough because some of those balls were already ragging. However, he doesn't have a doosra so you've got to try to cut down the angles [where he can attack the stumps] as much as possible."
The chill and gloom factors - the lights were on most of the day - also took their toll.
"When I was batting there was about two overs between 11.30 and midday where it seemed pitch black. I was thinking 'don't nick it, don't nick it'."
Taylor says the standard issue team handwarmers [little bags of chemicals they shake to emit heat] dealt with the worst of the cold.
"It's not the coldest I've played but it's fairly fresh. I've only started using them [the handwarmers] the last couple of years, but they do help."
Meanwhile, James Anderson became the fourth English bowler to take 300 test wickets after Sir Ian Botham (383), Bob Willis (325) and Fred Trueman (307). He had Peter Fulton caught by Graeme Swann at third slip on his way to figures of three for 32.
"It's nice to see him hold onto one. It meant a lot to me and I could see how much it meant to him, how pleased he was for me.
"My mum and dad were also here today but they booked until Monday just in case."
Anderson says breaking Botham's record remains realistic.
"I don't see why not but there's still a long way to go. I'll just concentrate on staying fit and contributing to the team."