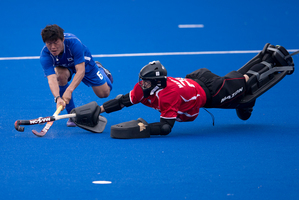 By the time New Zealand finish their six-match series against Korea, the two teams will most likely be on first- name terms, know each other's shoe size and have friended them on Facebook.
An extended rubber such as this leaves little room for surprise and brings plenty of familiarity.
Unlike tournament play, when several teams are encountered - and so different players, structures and philosophies have to be factored into preparation - New Zealand are confident they know what to expect from the Koreans in the remaining four matches of the series.
The first two at Rangitoto College were drawn 1-1, showing there's little between the teams.
New Zealand hope to work fresh strategies during the series, which resumes with a double header at the weekend at Pukekohe.
The Koreans, two places behind New Zealand at No8 in the world, play a fast-breaking game and are happy on the counter attack.
New Zealand have shown a welcome resolve when scrambling in defence, they work the flanks well, can be patient and can string together phases of passing.
They also have strikers such as Hugo Inglis and Stephen Jenness to cause problems for the opposing defence.
The squad for the World League 3 tournament in Rotterdam from June 13 to 23 - effectively the semifinal for the final in Delhi next January - will be named after the Korean series.
The New Zealand squad contains 11 players with fewer than 20 international caps. In hockey terms, they're still developing.
That's balanced by the likes of captain Dean Couzins, with 276 caps, striker Phil Burrows, on 292, and defender Shea McAleese on 175. There are pros and cons to a lengthy series against a single opponent, but with Rotterdam in mind, Couzins is clear on one advantage from it.
"In an ideal world you get more out of tournament situations. That's where the big things happen, like Olympics and World Cups," Auckland defender Couzins said. "But the beauty of this is it allows you to focus more on yourself. You know what you're going to get [from the opponent]. As long as you keep growing your game you can get a lot out of it."
Penalty corner exponent Andy Hayward shares Couzins view.
"You don't want them holding back," he said. "All our briefings are about us, rather than having to worry about changing teams [opponents] all the time. Come Rotterdam it will be more about the other teams."
What happens next
• New Zealand and Korea meet today and tomorrow - both games at 3pm at Rosa Birch Park in Pukekohe - before wrapping up the six-game series at Papatoetoe Sports Centre next Tuesday and Wednesday, both starting at 7pm.
• The 18-man New Zealand squad for the World League 3 tournament in Rotterdam next month will be chosen from the group of 23 by the end of this month.