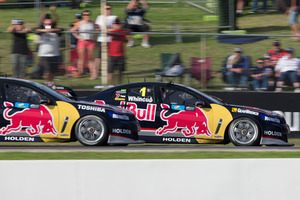 V8 Supercars championship leader Jamie Whincup admits he will have to snap out of holiday mode to maintain his status as the king of the sport's offshore events.
Whincup says this is the least prepared he has been going into a race.
The V8 Supercars debut in the United States today, and the unfamiliar and quirky Circuit of the Americas lies ahead.
The Texas track designers have packed the course with twists and turns, the most intriguing of which is a steep uphill climb off the starting grid to a tight first corner with a narrow exit.
Holden's James Courtney and Nissan's Todd Kelly both believe turn one could lead to opening-lap mayhem.
Whincup's main concern, though, is conceding one of his and Red Bull Racing's greatest edges - the ability to quickly dial in the right car set-ups on race weekend thanks to data from previous good results.
"I've got to admit I am probably the least prepared I've been for a long time so I'll go out there [on Saturday] and learn the circuit," Whincup said ahead of the first practice session.
"I hadn't seen the circuit until yesterday. A few of the other boys have been here, had a look around and probably studied it a lot more than I have. I've been in holiday mode so we'll see tomorrow."
Holden's Whincup has won 16 of the past 24 overseas V8 races, but plays that statistic down - saying much of that was because of repeat wins in Abu Dhabi.
Drivers had their first look at the track yesterday and were amazed by the iconic design of a new state-of-the-art facility purpose-built to host Formula One and MotoGP.
"[Turn one] feels like you're driving up the side of a mountain," said Courtney, one of only two to have driven the track.
"It's a lot wider on the entry than what it is on the exit - we're probably going to be 28 cars wide going into there and three coming out.
"The way it's shaped, it promotes quite a bit of lunging. Being uphill off the start, if you don't get a good start, you'll sink quite deep into the pack and cause a bit of a drama. It's going to be a pretty exciting corner."
To help drivers and pit crews get a feel for the track and lap data to work with, extra practice and separate qualifying sessions for each of the weekend's four races will be held.
Two races will be held tomorrow and two on Monday - all 100km sprints.
A three-day crowd of between 50,000 and 60,000 is expected, following on from F1's 266,000 and MotoGP's 130,000 attendances for their three-day events over the past six months.
Drivers have been in high demand around Austin and promotion has been intense.
Mercedes driver Lee Holdsworth had one of the most unusual pre-race appearances - he was called on to throw the ceremonial first pitch for local baseball team Red Rock Express - an affiliate of Major League Baseball team Texas Rangers.AAP