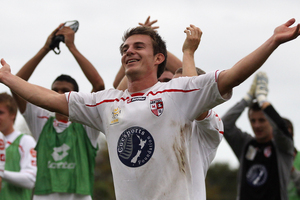 The battle lines have blurred and the tackles have mellowed but there will still be an undercurrent of animosity in the Oceania Champions League final on Sunday.
When defending champions Auckland City take on national champions Waitakere United for a spot at the Club World Cup, it will be the sides' seventh clash of this campaign.
If familiarity breeds contempt, that will only be enhanced by the stakes and the US$500,000 prize on the line for the victors.
But the Super City derby has evolved in recent years, with players crossing the divide far more freely than when Keryn Jordan did so in 2005, among accusations he was poached by Auckland.
Waitakere coach Paul Marshall is a long-time Auckland City man, while six current players - Waitakere's Matt Cuneen, Milos Nikolic, Chad Coombes and Luiz del Monte and Auckland's Daniel Koprivcic and Chris Bale - have also experienced both sides of the rivalry.
In the past, build-up to Super City games has seen the likes of Auckland's Riki van Steeden, who has dished out and received some full-blooded challenges on derby day, fan the flames, saying in 2008: "There's definitely a bit of hatred between the clubs.''
But today's pre-match press conference featured more bouquets than brickbats, with Marshall capturing the contrast: "I had a wonderful time at Auckland City. I know the people at Auckland City well and have some very good friends there.''
That's not to say, however, that Marshall will be aiming for anything less than inflicting some pain on those friends come Sunday. His side have done throughout this season, winning four of the previous six encounters, though every victory has been by the odd goal.
Excluding the pre-season Charity Cup - a `friendly', if that word can be used to describe a derby - there has been 28 bookings and two red cards in five competitive games between the teams, indicating there is still some bad blood.
But even that level of ill-discipline is low compared to what it once was. In one derby in 2006-07, 16 yellow and three red cards were dished out by referee Neil Fox, while a five-match stretch the following season produced 41 yellow cards and saw four players given their marching orders.
Players switching sides would have seen some tempers cool, while Auckland's considerable Spanish contingent has brought professionalism to the club but also potentially detracted from the enmity.
"It's not really the Spanish style of the game,'' van Steeden said. "They're more technically gifted than wanting to get into the physicality, and I suppose they don't really have the history that we have had.''
Van Steeden, who was still on Auckland's books this season but hasn't featured in the O-League, said that was indicative of the derby as a whole.
"It's definitely changed. It's definitely not as physical as it used to be. I'd say it's still competitive and there's still a rivalry there but, physically, it's mellowed out, for sure.''
Even if the two-footed challenges may be a thing of the past, and even if some of the players are more friend than foe, Waitakere goalkeeper Danny Robinson said there would be no quarter given at Mt Smart Stadium.
"I know a lot of the [Auckland] players personally,'' he said. ``Off the pitch, there's a good friendly rivalry.
"But there's no friendliness on the pitch. It's a funny relationship you have, you kind of change when you go over the white line.''
And considering this is the first time Auckland and Waitakere have met in the final of this competition, there are half a million reasons why that will remain true on Sunday.
- APNZ