Despite talk of slow wicket NZ bowler scores scalps of England's premier batsmen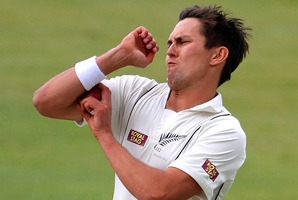 Disappointment has been expressed about the state of the Lord's pitch despite the inclement conditions faced by the ground staff to prepare a test-quality strip.
England No 3 Jonathan Trott was questioned on how it had played after the first day. He made 39 but his third ball saw a caught-and-bowled chance dropped by New Zealand spinner Bruce Martin. Trott was through the shot before the ball arrived off what he considers a slow wicket.
However, Lord's cannot be accused of failing to produce results. Since New Zealand drew with England in 2008, only two of the 10 tests at the venue have been draws.
In fact, many felt the early star of the day was the Lord's hovercraft. The spaceship-like machine which vibrates its way out to the middle enabled staff to produce a wicket with a brown hue by the start of play.
Viewing the wicket pre-test left the impression the captain who won the toss would bellow for a new ball. New Zealand captain Brendon McCullum indicated as much. But any green tinge had been shaved off by the start. It didn't stop England captain Alastair Cook calling the toss correctly and shooting off to don his pads.
Trott says the pitch was a lot slower than they're used to.
"Add in the relaid outfield factor and the ball is stopping rather than speeding up going down the hill.
"The ball was also stopping a bit for the spinner and I nearly hit one straight back to him [Martin]. So you rein yourself in. The ball wasn't flying off the bat square of the wicket, it was going pretty straight. They set straightish fields too, so it made batting difficult. Maybe the pitch will get quicker throughout the game."
Trott acknowledged the difficulties preparing the wicket when rain lingered.
"They've done pretty well to get it that [straw] colour. It looks pretty dry and I think it'll spin if it goes five days. It's softer than normal, though."
Trott was not alone in his assessment. New Zealand's Trent Boult was also surprised by its characteristics.
"When you put the ball on a full length there was a lot of variation in pace and carry. It might quicken up."
Boult chose Lord's of all settings to reiterate he is capable of dismissing the world's best test batsmen.
With 43 wickets in 14 tests at 30.07, he is becoming more of a solution than experiment in solving New Zealand's perennial search for a left-arm strike bowler. New Zealand have had just 15 such candidates in 83 years of test cricket. Only one, Richard Collinge (1965-78), has an average under 30 with 116 wickets in 35 tests at 29.25. Of the eight to play for New Zealand in the past 20 years, Shayne O'Connor figures as the best, with 53 wickets at 32.52 from 19 tests.
Boult took the wickets of England's premier batsmen Cook and Trott on the first day and has now dismissed them both three times in tests.
His dismissal list includes Sachin Tendulkar, Jacques Kallis, Michael Hussey and Chris Gayle after he debuted as a replacement for Daniel Vettori in the 2011 New Zealand side which beat Australia at Hobart.
On the opening day, Boult swung a ball away from the left-handed Cook after leaking just two runs from 35 deliveries to him. In contrast, he'd been swinging the ball into the right-handed Trott but got one to hold its line. Dean Brownlie snaffled a candidate for catch of the series, diving to his left at third slip. Boult left with figures of 2-29 from 17 overs. A possible honours board posting looms.
The wry suggestion Cook might be his bunny brought a smile.
"I enjoy bowling to left-handed batsmen," Boult said. "I'm not sure whether that's because I line myself up with them well or have a clear game plan. It's nice to have Cook's scalp three times in the last few weeks. I'm definitely not calling him my bunny just yet, though."