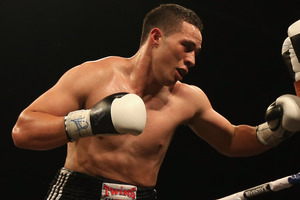 You've heard of 'The Thriller In Manila', and 'The Rumble In The Jungle'. Joseph Parker's bout against expat Kiwi Brice Ritani wasn't quite The Riot At The Hyatt - but it was highly promising.
It was an encouraging, satisfying warm-up for his fight with Francois Botha next month, with 105kg Parker convincingly beating the 124kg Ritani unanimously on points, 60-54 over a six-round contest at a 'Night At The Fights' card at the Hyatt Regency in Irvine, Los Angeles.
In front of about 1000 black-tie guests, Parker showed the speed and ringcraft that has had knowledgeable boxing judges marking him as a prospect.
While Ritani is by no means in the top echelon of boxers, he was a perfect opponent ahead of Botha - squat, strong and durable and he never stopped coming forward at Parker the whole bout.
Parker snapped out his long left jab, a weapon that distinguishes the boxer from the fighter and scored heavily with a series of combinations, displaying his speed.
There was a frisson of disappointment that he did not incur a knockout but that was never the goal in this fight. Parker has never gone six rounds before - he has facilitated early departures for his previous, unknown opponents - and in the 44-year-old, highly experienced Botha, he has a crafty ring foe.
Ritani is no slouch - he has been in the ring with US heavyweight Hasim Rahman, one of only two men to beat the great undisputed heavyweight champion Lennox Lewis. He also has a highly respected Mixed Martial Arts pedigree and last night demonstrated a real ability to take a punch.
It was a perfect dress rehearsal for Parker. His jab will be a weapon against Botha, it made Ritani miss when he was coming in and he used his movement well to avoid other charges by his ever-pressing opponent.
Even more pleasingly, his fitness work with trainer Kevin Barry was spot on - he was barely blowing by the end of the fight and his best round, arguably, was the last when Ritani had to knock him out to win. Parker touched the accelerator and closed matters off.
It is far, far too early to be talking about a new star in New Zealand boxing but, with this bout, Parker demonstrated he has the smarts, speed and the raw materials for a fine professional career.
This wasn't the back blocks of South Auckland but a glitzy evening in front of some discerning judges and, in his first fight with someone who stood a show of knocking him out or at least damaging his ambitions, Parker was cool, calm and collected - and he collected another scalp.
•Paul Lewis is in Las Vegas courtesy of Duco Events.