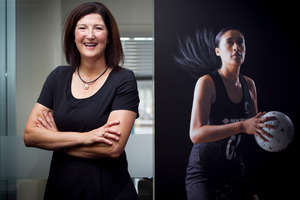 The appointment of Australian shooting legend Vicki Wilson to one of the top posts in New Zealand netball has once again raised concerns over the depth in our coaching stocks.
Yesterday's announcement that the former Australian captain will be Silver Ferns coach Waimarama Taumaunu's assistant for the next two years came as a major surprise, raising eyebrows on both sides of the Tasman.
When the position was advertised last month, Taumaunu said an overseas applicant would be considered, but it was unlikely they would possess one of the key prerequisites for the job - a passion to help the Silver Ferns become world champions.
But nevertheless in the search for her new sidekick Taumaunu contacted several of her overseas contacts and "pointed out" that the position was up for grabs. She said she was not overly optimistic that Wilson would apply, but the fact she did proved "she wanted to be here".
"I was not prepared to chase anyone, whoever applied had to want the job," said Taumaunu.
Taumaunu said the honest and forthright Wilson won over the interview panel, which included Silver Ferns captain Casey Kopua, with her passionate belief she could add real value to the team in their quest to defend their Commonwealth Games title next year and win the 2015 world championships in Sydney.
Netball New Zealand chief executive Raelene Castle said Wilson's appointment has been well received by senior members of the Silver Ferns, who were consulted during the process.
"It was very important we had the buy-in from the players, [Kopua] spoke to the leadership team and there was a unanimous belief that Vicki will bring a point of difference that will be very valuable in the Silver Ferns environment."
But Castle acknowledged there might be some backlash from local coaches, who have already complained coaching pathways at ANZ Championship level have been blocked by former national coaches Leigh Gibbs (Tactix) and Ruth Aitken (Mystics). Castle said the decision to appoint an Australian coach was hotly debated among the panel, but in the end they had to go for the strongest applicant.
"We certainly had some robust conversations about it, but the next two years are really important for us and we needed to support Wai in putting a management team together that has the capability to win those pinnacle events," said Castle.
"I hope we have done enough work in the background to make sure those coaches all know that they have got a pathway and we will continue to invest in them as we move forward."
While Wilson had yet to tell any of her former Australian teammates about her new job yesterday, she expects there will be some who will question her decision. But she said that with the sport operating in an increasingly professional space, national rivalry did not hold the same weight.
"I think there will be some people who will be unsure why I did it, but for me it was the right move and a good opportunity to work along with one of the most astute netball brains in the world, and I think we can make such a formidable coaching partnership and that's what really excited me," she said.
Widely regarded as one of the best shooters to grace the international game, Wilson's appointment comes at a time when New Zealand's top shooters - Irene van Dyk and Cathrine Latu - have been coming under criticism for their low volume and inconsistent form. Wilson believes much of the pair's struggles can be eliminated with better ball supply.
"For me it's about fine-tuning and building a little bit more in their repertoire, Irene is such an experienced campaigner and she has been able to develop her game hugely over the years. So it will probably be same message, different voice."


Vicki Wilson
• Former Australian captain.
• 104 test caps from 1984-1999.
• Awarded the Order of Australia medal in 1992.
• 3 world championship titles, 1 Commonwealth Games gold.