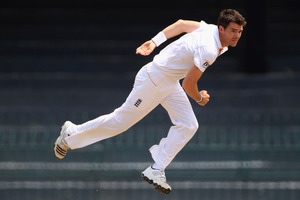 James Anderson was on the verge of taking his 300th test wicket this week (298 before the start of last night's first test). His numbers put him among the truly great England bowlers.
During my career I played with many talented England players, but Jimmy is the most skilful.
As captain, I did not have him at his best. He did not have the skills then that he has now. He has matured and developed in his mentality and expertise through trial and error.
During the past few years there has been more maturity about his bowling.
In the early days if he had a poor start his body language would make it obvious to the batsman he was having a bad day.
Now if he has a couple of poor overs he manages his mentality by channelling his disappointment into aggression. He is more controlled. He does not go striving for the magic delivery. He knows what lines he should be bowling.
It is down to experience. At the start of his career he had problems with his back and action. He was inconsistent and frustrated, and there is nothing worse for a young bowler than knowing he has problems with his back.
He also had a technical fault with a cross-over in his action but by becoming straighter in delivery he has been able to strengthen his back. That has enabled him to develop more skills because he could train harder, developing an inswinger to go with his booming outswinger. He also learned the ability to wobble the seam on flat wickets and reverse swing.
Youngsters should look at how he has developed his game. You need to bowl the inswinger but also realise there are other ways of manoeuvring the ball if it is not swinging. That is why Jimmy has longevity. If you do not change you will be found out and will not survive.
It was obvious when he came into the side in 2002-03 on the tour to Australia that he was a very talented player.
Duncan Fletcher and Nasser Hussain saw something and gave him a chance on that Ashes tour, and he produced a remarkable ODI performance in Adelaide. Bowling to the likes of Adam Gilchrist on a stinking hot day, he went 10-6-12-1.
We are not close personally. I still do not know him that well but I did not play a huge amount of cricket with him. As a captain you only really get close to the guys you take out in the middle.
One of his lowest points was when he came into the team at the Wanderers in January 2005.
The series was 1-1 and we were under pressure. He had not played much cricket but there was an injury to Simon Jones and we picked Jimmy. It is hard when you are on tour. There are occasions when you have to give someone a chance even when you know they are not ready.
It was a high-pressure situation and he did not deliver. My job as captain was to win the game. He probably felt I was hard on him. I would be the same now and those experiences are good for young cricketers.
Once you retire, you realise those moments make you. You have to go through low times. You become a better person and cricketer for that, and Jimmy grew as a player.
Over the past few years he has become the all-round package, the leader of the bowling attack and a crucial member of the tactical planning department.
At the end of the India series, I sent him a text message telling him that his was the greatest performance I had seen by an England bowler in Asia.
The fact that he has dismissed Sachin Tendulkar more times than any other bowler in test cricket says it all.
• Michael Vaughan is a former England captain