New Zealand captain might be treating this as the fourth of five matches, but two-test tours are still dispiriting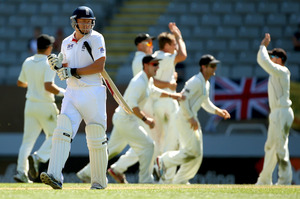 How much meaning can be placed on a mere two cricket tests in a series?
That question was again raised as New Zealand and England embarked on the opening day of their two-test contest at Lord's overnight.
Since January 2011, New Zealand has played eight test series and two one-off tests against Zimbabwe. Six of them have been two-test series. Their only three-test series have been at home against South Africa and England.
Of those six two-test series, two (against Australia and Sri Lanka) were left on a precipice at one-all. The lack of a decider was dispiriting.
The trend looks set to continue with India apparently intent on pruning their Future Tours Programme commitment to New Zealand to two tests next summer in favour of Asia Cup one-day internationals. In contrast, England follows this series with two five-test Ashes campaigns.
New Zealand captain Brendon McCullum produced an artful piece of diplomacy when confronted with the issue at his pre-match media conference.
"We look at the three tests we had back home as well and [with the current two tests] that makes a five-match contest. It's evenly poised at this point. We'd love to play longer series but realise we've got to earn the right."
He says that was another reason which made the drawn home series against England gratifying.
"If you look at the rankings we did [exceed expectations]. If you look at where we want to get to as a team, that's the standard of cricket we've got to reach. The signs we showed during that home series are what we want to display more regularly.
"This is a huge series for us to regain the consistency we showed back home and show some fighting characteristics and innovation."
McCullum acknowledged their recent slow starts to test series were a hindrance in their pursuit of longer series away against the big four - England, India, Australia and South Africa. New Zealand last won the first test of a series against a top-eight side in November 2009 against Pakistan in Dunedin.
England captain Alastair Cook inadvertently touched on the fleeting nature of two-test series.
"It's always important to start well, regardless of the team you're playing. Especially in a two-match series where it's over so quickly. I think we can win, of course I do. But it could be 0-0 because eight days are washed out... You've got to be careful [making predictions]."