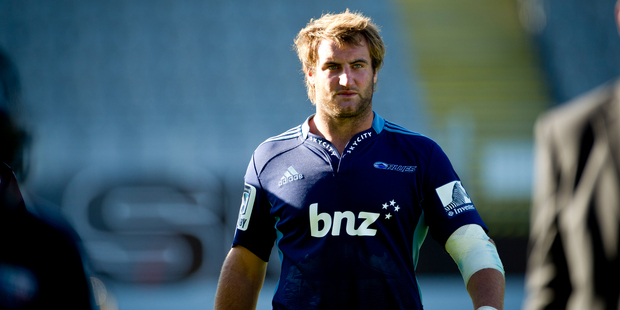 Give Tim Perry his perfect job and it would entail some pig-hunting.
Alone with his dogs, tracking through the landscape around the Rakaia Gorge on a hunting mission, would be just fine.
Home is Barrhill between Rakaia and Methven where his father still farms and where he's waiting, patiently, for his rugby-playing son to come and take over the property.
The 24-year-old is heading down that way today but his sights are set on Christchurch and the Blues' meeting with the Crusaders.
Perry has been on an unusual rugby journey since he left school and headed into the Crusaders academy. He did his stuff there but then decided he'd had enough and wandered away to think about what he wanted to do with his life.
"I went shepherding up the Rakaia Gorge and hunting a lot for pigs and got hooked on it. I still do it whenever I can."
Those times are restricted with his selection in the Blues squad although he ducked away recently to link up with an old workmate in Te Awamutu and shoot a few deer on his farm.
"I love my fishing too and that has been easier getting out with guys like Kane Barrett. 'I'm also mindful of the old man getting sick of waiting for me on the farm but he also likes his footy and wants me to make the most of this chance."
It doesn't get much bigger than fronting an all-international Crusaders front five at Addington tomorrow as the Blues head south for their Super 15 rematch.
They have persevered with Perry on the evidence of his work last week against the Rebels. He and his broken nose, damaged by a stray Rebels elbow, will suit up in just his fourth start for the Blues.
"The rugby's good, I'm enjoying every day," he said.
His re-emergence in rugby came through playing for Rakaia, then Mid-Canterbury before he made the Heartland side.
"By then I decided I wanted to have a crack at it again so moved up to Marlborough and worked on a farm up there and did a lot of training and played for Tasman last year," he said.
A second five-eighth and No8 in his younger days, Perry shifted to loosehead prop as his weight rose and his pace dropped. He is still working on the technical aspects but his skills have shown out in general play.
"I have had a few coaches and always write their tips down in a book and try and keep ticking the boxes," he said.
Late last year Perry was asked about moving to the Blues. He fretted a little about moving to the big smoke and is still coming to terms with apartment living and the traffic.
"But I am coping and it was too good an opportunity to pass on. I would have been well down the order at the Crusaders and I still have a lot to learn, but the staff at the Blues and having a lot of young guys here made it a no-brainer."