Hello and goodbye from the Bulldogs, tragic end to a pilgrimage and the richest sport stars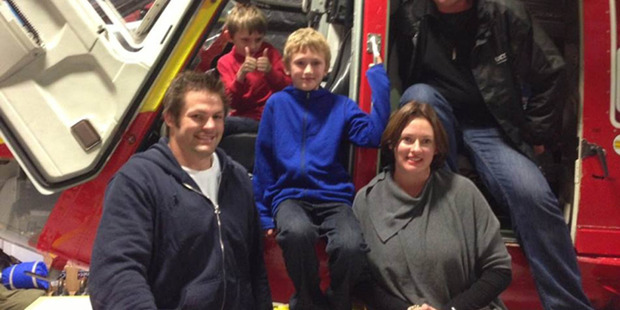 Party with the Bulldogs
Ah, the glamour of the NRL. Less than six hours after a stirring comeback victory over the Warriors at Wellington, the Bulldogs were spotted all blazered up in the lobby of their Amora Hotel, ready to be transported to the airport and a trip back across the Tassie. It's a far cry from the days when the Bulldogs were famous/infamous for their willingness to stay and party among the locals. Still, one of the high-profile Kiwis among their litter obviously decided to take the chance to catch up with a few mates. He was spotted running down the street in all his finery, desperate not to miss the bus.
Locke the living legend
Speaking of glamour, Warriors fullback Kevin Locke has become a role model for Youth Horizons, according to a simpering release this week. The league star showed his support for the organisation "as an ambassador, role model and living legend", when he spoke at an event this week. Role model is tenuous enough, but living legend? "I'm a role model now," Locke said.
"Hopefully I can motivate them to do something good with their future." This from the Herald on December 6: "Warriors player Kevin Locke is skating on 'very thin ice' with the club, due to his numerous driving convictions, a court has been told. Locke was sentenced today in Auckland District Court to 80 hours' community work for a third driving offence. He was also fined $1400." With role models like these...
Pilgrimage cut short
A Seattle man trying to dribble a soccer ball more than 10,000km to Brazil in time for next year's World Cup died this week less than 500km into his trip after being hit by a pickup truck on the Oregon coast. Police in Lincoln City, Oregon, said 42-year-old Richard Swanson was hit while walking south along US Highway 101 near the city limits. The driver has not been charged. Swanson set out on the trek to promote the One World Futbol Project, in Berkeley, California, which donates durable soccer balls to people in developing countries.
Swanson's website said he left Seattle May 1, and the trip would take him through 11 countries before reaching Sao Paolo, Brazil, where the World Cup soccer tournament will be played. "It will be a trip of a lifetime where I will push myself further than I ever thought possible," he wrote.
Sex in the Citeh
From the good folk at the Sun comes the revelation that Manchester City have the randiest fans in the Premier League. A poll has found that almost a third of Citeh supporters (31 per cent) have daily romps, easily outpacing second-placed Chelsea (24 per cent). Arsenal were third at 22 per cent and Birmingham rivals West Bromwich Albion and Aston Villa were battling it out for the final Champions Bonk League spot with 20 per cent.
At the other end of the table, Newcastle (5 per cent) were relegated, as were northeast rivals Sunderland (8 per cent), and Stoke (9 per cent).
Sky falls in
Continuing the football theme, anyone get the feeling Sky has been dudded by their own Facebook page. With all 10 Premier League games kicking off at the same time during the final round and only two available channels, Sky let fans choose the games to be screened live by voting on their Facebook page. So we get Sir Alex Ferguson's final game in charge, right?
I mean, Supershorts would normally rather smear our collective naked bodies with strawberry jam and run around a wasp nest than celebrate a Manchester United victory, but in this particular instance, there could be only one choice of game to screen live.
But no, Sky's wonderful idea has given viewers the choice of Tottenham v Sunderland and Newcastle v Arsenal, in an enthralling (stifling yawn) battle for the final Champions League spot (in layman's language, fourth), while those wanting to watch every facial tic and embarrassing-old-man's-celebration from probably the most dominant figure in British soccer history have to wait.
Super-rich list
Unbeaten boxer Floyd Mayweather tops Sports Illustrated's list of highest-paid pro sportsmen for the second straight year.
His new megadeal with Showtime television guarantees him at least US$32 million ($38.8 million) a fight over six bouts. SI estimates he will make US$90 million this year.
Tiger Woods, who was No1 on the Fortunate 50 every year between 2004 and 2011, falls to his lowest ranking at No5 with an estimated income this year of US$40.8 million. LeBron James, the Miami Heat superstar recently named NBA Most Valuable Player for the fourth time in his career, is second on the list at US$56.5 million for the year.
The list takes into account salary, winnings, bonuses and endorsements.