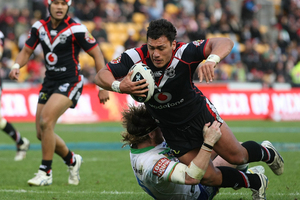 It has become increasingly apparent to me that if you are quiet in this game, you are going to lose.
It's something the Warriors need to address quickly. Not in the Matt Elliott-unhappy-with-referees kind of way, although that can't hurt because there have been a number of bad calls go against them in recent games, but players just can't afford to be quiet on the field.
Communication plays such a huge role in any defensive pattern and one of the biggest problems the Warriors face is their defence. There's no question they need to defend their line a lot better than they have.
One of the areas they have struggled in is on the outside and the Bulldogs exposed this brilliantly last weekend. The Doggies sent their big men up through the middle to bend the Warriors' defence and then sent it wide to find the gaps.
It's a key area of the game this season as most of the attack goes out wide and the Warriors aren't reading this at the moment, which is a concern. You can do all the hard work in the middle but, unless you reshuffle the line and get organised out wide, you will be exposed.
That's where good communication comes in.
Elijah Taylor has often said he doesn't feel like he's earned the right to say much to the side because he's still relatively young and inexperienced but that has to change. Everyone has to talk no matter if they have played one game or 101 games.
It's about making the right decisions in defence and adjusting to where the opposition is going to attack.
Winger Manu Vatuvei, for instance, has a tendency to turn his body inwards when he defends and, when he does that, there's only one way he can go and he can be beaten easily.
Panthers coach Ivan Cleary will be well aware of that and will probably target it tomorrow night in Penrith. It doesn't take much for a good halfback or five-eighth to exploit that.
Manu has to find a solution and one of those is better communication from his centre telling him to stay out wide. Another option is for him to come from behind the centre and sweep around so his natural instinct is to slide and this also provides a better position for the kicks behind.
I would start Taylor ahead of Todd Lowrie in the back row at the moment. Todd is steady. Elijah does the same thing but is better on attack and the Warriors need to start on the front foot. Elijah can create more opportunities and seems to have more options than Todd.
The good teams have attacking players in the second and back-row and it seems to be the way the game is going.
The Warriors have made a good signing in Sharks second-rower Jayson Bukuya. He's a good player who is a strong runner, is very powerful around the ruck and has a high workrate.
Hopefully, he's also a good talker.