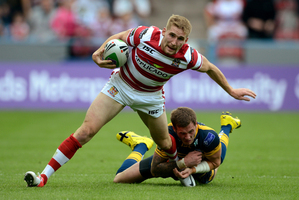 1. Tomkins time
A UK bookmaker might have closed the market on Sam Tomkins joining the Warriors, refusing to accept any more bets on which club the 24-year-old will head to next year, but it's still far from a done deal. One insider claimed the Warriors were a "50/50 chance" of snaring a player rated as the best in the UK Super League. The club will have to fork out big money, especially considering they would need to pay what is effectively a transfer fee to Wigan, but have room under a growing salary cap. The Titans, Roosters and Dragons are also reportedly chasing Tomkins.
2. Forgive my sins
Why does the NRL have such an aversion to the use of the sin bin? The NRL's competition committee recently met to discuss the topic and rejected the use of the sin bin for repeated incidents of foul play. Why? It is a very effective tool in rugby, immediately penalising a team for careless or deliberate offending. Placing a player on report and leaving it up to the judiciary to decide is a cop out and does little to benefit the team on the receiving end of transgressions, especially if they have lost a player to injury as a result of the incident.
3. Pink Warriors
The Warriors will look pretty in pink next weekend when they host the Knights at Mt Smart Stadium as part of the annual Women in League Round, which recognises and celebrates the role women play in league across all levels of the game. Most activities centre around this weekend's action but the Warriors will wait until they next play at home and are one of six teams who will wear pink to mark the occasion. Halfback Shaun Johnson will go one step further by also wearing pink boots. Female participation in league is at record levels following a 20 per cent increase in female registrations in Australia in 2012 (5801 up from 4814) and a 100 per cent increase in registered female coaches (172 in 2012). There are also six women on NRL club boards and 19 in senior executive positions and 41 per cent of all club members are female (8815).
4. Family affair
It hasn't been a great week for some in the Marshall household, with Benji Marshall benched for tonight's match against the Storm, but it has gone OK for his little brother Jeremy Marshall-King, who helped his Balmain Tigers win the Australian under-18s title. The 17-year-old halfback had also been a key member of Balmain's SG Ball grand final win a week earlier. The youngest of the Marshall boys doesn't seem fazed by comparisons with Benji. "It's all right," he told the Sydney Morning Herald. "I just play my game. It doesn't worry me." But it hasn't panned out as well as middle brother Jordan might have liked after his career stalled at under-20s level.
5. The Daley grind
Comparisons can be flattering but also dangerous in sport and on Wednesday Warriors coach Matt Elliott compared Carlos Tuimavave to the great Laurie Daley. Tuimavave will make his second start of the season on Saturday night, and his seventh overall, when he lines up in the centres. Daley played nearly 250 games for Canberra, and more than 20 for both NSW and Australia. "I'm a massive Carlos Tuimavave fan," Elliott enthused. "I think he's a first-grader. I see his progression, and I'm not getting carried away with similarities, a bit like Laurie Daley. He'll start his career as a centre and he'll progress inwards from there. But he's a guy with plenty of class."
6. Game of the week
A couple of weeks ago many might have foreseen another grand final being played between the Storm and Sea Eagles but some might not now be so sure as they've been overtaken by the Rabbitohs and Roosters. Incredibly, the previously impenetrable Storm have lost their past two. Manly have lost two of their past three - admittedly against good sides - and sneaked past the Dragons 24-18 after jumping out to an early 18-0 lead.
- APNZ