Cameron McMillan looks back on the top performers in recent weeks and whether or not they should be considered.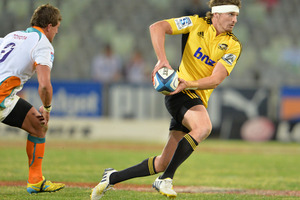 Aaron Cruden: After a quiet Fantasy season to date, Cruden stepped up last week after taking over the kicking duties from an injured Gareth Anscombe, finishing with 22 Fantasy points.
Verdict: Buy
Anscombe is out till at least July with a broken foot and with that goes his 178 Fantasy points which rates him as the third best five-eighth. Five tries help Anscombe's tally but his absence leaves a lot of kicking points on offer for Cruden to take. The defending champions have a run of home games ahead which will also help Cruden's cause. After ending a five-week run of single figure scores, Cruden, who made six from six last week, is a certain buy.
Beauden Barrett: Another New Zealand five-eighth who stepped up last weekend with 31 Fantasy points against the Cheetahs.
Verdict: Buy
Not as hot on Barrett compared to Cruden but you can't ignore his all-round performance in Bloemfontein where he scored a try, converted seven from nine, completed eight tackles and had 40m gained.
The Hurricanes are on New Zealand soil for four of their final five games but Barrett's value is tied to the performance of his team who remain in fourth in the New Zealand Conference.
Luke Watson: The Kings skipper produced one of the best Fantasy performances against the Highlanders last weekend, scoring 41 points with two tries, 12 tackles and a turnover.
Verdict: Sell
First off it was against the Highlanders which should be a black flag right there. Another sign it was probably a one-off is that his previous best was 13 points in week two against the Force. Watson is not a big try scorer so don't expect him to dot down for another double any time soon. Better cheap backrowers on offer (see Labuschagne, van der Walt and Luatua).
Frank Halai: The Blues winger crossed over for a hat-trick last week to finish with a season best 37 points.
Verdict: Buy
Halai's hat-trick against the Rebels took his try-scoring tally to eight this season, making him the leading try scorer, however half of those came in the opening two matches with the 25-year-old scoring just once between round four and 13. In saying all that, he is ridiculously cheap for a back at $7,810,000, meaning 119 other players are more expensive than him. Did we mention he's the leading try scorer in the competition?
Cam Crawford: The Waratahs rookie has had a big impact since making his debut for the Sydney side, scoring 75 points in his opening four games.
Verdict: Buy then sell
In only four games Crawford has rocketed up the top try scorer list to joint fifth place with five tries. A hat-trick against the Kings saw him score 32 Fantasy points after a 24-point effort in his first game against the Chiefs. He's a buy for now, especially at $7,740,000 as the Waratahs face the Brumbies then Rebels over the next two weeks. Consider to sell after that Melbourne clash, however, as the Waratahs head to Christchurch before two weeks off followed by a tempting fixture against the Force then the two-week Lions bye break.
Shaun Treeby: The Highlanders back has scored 39 points in the last two weeks.
Verdict: Sell
Impressive outings considering he's a Highlander who haven't offered much for Fantasy players this season. But he's a sell for sure as the Highlanders face a tough road game this week against the Bulls before facing the Force on the way back home to Dunedin where the Blues will be waiting.