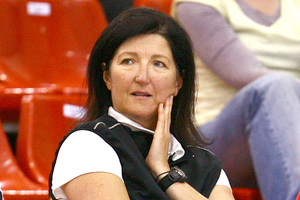 When Waimarama Taumaunu approached Vicki Wilson about applying for the Silver Ferns assistant role, she didn't expect the Australian shooting great's CV to land on her desk.
In the search for her new coaching side-kick Taumaunu contacted several overseas-based coaches and "pointed out" that the position was up for grabs.
"I was not prepared to chase anyone, whoever applied had to want the job," said Taumaunu.
"I was hugely excited when Vicki decided to apply, I was not overly optimistic. It was one of those things that you don't ring and ask you never know, so it was a bit of a punt and I'm just delighted it's paid off."
Wilson was this morning unveiled as the surprise appointment to the role of Silver Ferns assistant coach, signing a two-year contract through to the end of the 2015 world championships in Sydney.
It is the first time the New Zealand national side had an overseas-based coach in their management team, which has already raised a few eyebrows in netball circles, although the former Australian captain doesn't see what all the fuss is about.
"As players you are caught up in the rivalry and once you stop playing you realise that the sporting landscape is such a professional one, you're looking for an edge as a coach and I think by bringing an different perspective to achieve that next level," said Wilson.
"As far as getting my head around the New Zealand-Australia rivalry thing, it's not even part of my thinking. It was just this is a team and I'm committed to their vision of going to Sydney to win."
Netball New Zealand chief executive Raelene Castle said the high calibre of applicants made for a difficult decision but Wilson's extensive netball knowledge combined with her skills as a shooting specialist was the perfect complement to coach Waimarama Taumaunu's defensive expertise.
"We are delighted to have secured someone of Vicki's calibre to support Waimarama in the Silver Ferns environment," said Castle.
Wilson will join the Silver Ferns management team charged with developing, implementing and leading the Silver Ferns programme toward the 2015 world championships in Sydney.
As a former Australian Diamonds captain, Wilson is one of netball's most successful players with three World Championship gold medals and one Commonwealth Games gold medal to her credit. The 48-year-old played for the Australian national netball side for fifteen years and was awarded the Order of Australia Medal in 1992.
After retiring in 1999, Wilson has forged a successful career coaching at an elite level, most recently with the Queensland Firebirds from 2006, continuing in the ANZ Championship for two years until the 2009 season.
Wilson is relishing the opportunity to coach alongside Taumaunu and believes the pair will form a formidable combination.
"The opportunity to work with Waimarama and with such incredible athletes was too good to miss. I can't wait to get started," she said.
Wilson's first task will be working alongside Taumaunu and Silver Ferns selectors at the Silver Ferns trials in the first week of August.