The odds will be skinny but Ohoka Punter and Snooki look a cut above Cambridge rivals.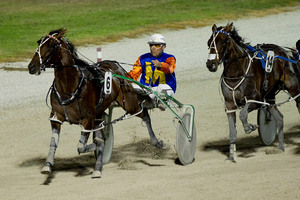 Anything other than a winning double will be a disappointment for Tony Herlihy at Cambridge tonight.
While our leading reinsman usually errs on the side of conservatism when assessing his horse's chances, Herlihy knows Ohoka Punter and Snooki need to win tonight if they are going to have any chance in their last major assignments of the season.
The pair are aiming for the Jewels at Ashburton on June 1, which is why they are starting at tonight's minor meeting. "With no Alexandra Park on this week, Cambridge was our only option because they need racing with the Jewels close," said Herlihy.
"And while I am taking them there primarily for fitness I'd expect them both to win."
Ohoka Punter hasn't raced since finishing third in the New Zealand Derby at Addington on April 5 and faces a 20m handicap in his first standing-start tonight.
He warmed up for that with an easy win at the Cambridge workouts last Saturday and Herlihy believes punters can take the very short odds on offer with confidence.
"Even though he has never had a standing-start on race night he is a sensible horse who has handled them well at home.
"He has been working really well, too, and the 2700m won't bother him so I would be disappointed if he didn't win."
While he is taking on older horses, Ohoka Punter is rising four and looks a genuine Cup horse in the making so providing he does things right tonight anything but a comprehensive victory would be a surprise.
He could then head to Alexandra Park next Friday to race as a final Jewels lead-up as he has thrived on hard racing heading into previous major assignments, like his Victoria and Northern Derby successes.
Snooki may be the forgotten filly of the juvenile ranks after she missed the Triple Crown at Alexandra Park recently but Herlihy thinks that could be a blessing heading into the Jewels.
"A lot of those fillies had some really hard racing, whereas she has had a little freshen up and I think it has strengthened her."
Snooki looked right up to leading fillies Angelina Jolie and Te Amo Bromac when narrowly beaten by them in feature races at the Auckland Cup Carnival and appears one of the best value bets in early Jewels markets, where she opened an $18 chance.
She also went to the Cambridge workouts last Saturday and won her heat well, suggesting she will overcame a wide barrier draw tonight.
"She has a bit of gate speed and is fit enough to use it this week," said Herlihy.
"I am happy with her and while I am not saying she will win the Jewels I think she is as good as most of the leading fillies she has met.
"So providing nothing goes wrong I'd like to think she will win this week."
There are plenty of other Jewels contenders and a few trying to win their way to the big day engaged tonight.
Last season's shock Jewels winner Charlemagne will try and sneak into his final by winning some money off a 45m handicap over 2200m in race seven tonight, where Superbowlcheerleader looks the better bet.
Race nine is a virtual Jewels qualifier, with Precious Rose, Spirit And Desire, Outrageous Delight, Lively Nights and Christian Acropolis all on the cusp of qualification but needing more stakes tonight to seal their trips to Ashburton.