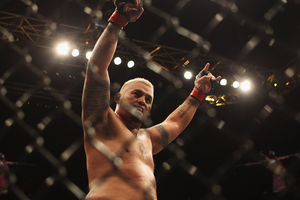 Kiwi mixed martial arts fighter Mark Hunt is still held up in New Zealand due to visa issues and will have a short window to acclimatise in Las Vegas ahead of his fight against Junior dos Santos at UFC 160 on May 25.
Hunt had planned to fly out early last week but was denied at the airport twice and the situation is nearing urgent as he and his team wanted to give him nearly three weeks to settle in.
The heavyweight bout is the co-main event on an exciting fight card that also includes Kiwi James Te Huna, who will meet No.4-ranked light heavyweight Glover Teixeira at the MGM Grand Arena.
Hunt and the UFC's director of communications, Dave Sholler, were both on a media call this morning (NZT) and said they expected the situation to be sorted in the next few days.
Website mmajunkie.com reported that Sholler said the UFC were confident of the bout going ahead.
"As you know, Mark has experienced a visa issue that we are working through at the moment," Sholler told the conference call.
"Out team is working through the issue and we anticipate Mark making his way to the US this weekend."
Hunt had a valid US visa in his old passport but had to get a new passport recently and the existing visa wasn't transferred to his new one and when Hunt and his team tried to apply for a new visa a hold up ensued.
The issue stems from a 2002 arrest where Hunt spent a night in jail after an incident outside a nightclub where he was sprayed with mace by an undercover police officer. Hunt was released without charge.
The whole situation is confusing given Hunt has returned to the US to fight in 2010 and 2011 and had no issues gaining access to the country then.
Hunt, who is on a four-fight winning streak in the UFC, said it was a frustrating lead up to the bout with dos Santos and theage.com.au reported that he was concerned about not having enough time to acclimatise.
"It's just some stupid misunderstanding, that's all that it is. I don't know really what it is, it's just something that happened a long time ago and it should be cleared up, so hopefully I can get out of here this week sometime - tomorrow, tonight, whenever hopefully," Hunt said.
"I fought in Vegas once before and I went out there four days out from the fight, and that was quite tiring. I was going to bed at six in the morning, American time, and everyone else was just waking up. It was a bit of a problem, so I just have to get my visa in time to get acclimatised - so hopefully soon, tomorrow or tonight.
"It's just frustrating, but what can you do? I can't do anything about it. It's not in my hands anymore. I'll just leave it in God's hands, and see whatever happens, happens."
- APNZ