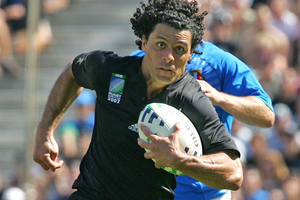 Doug Howlett, the former mop-haired speedster with a knack for scoring tries at any level of the game, was always destined for success.
Having announced his retirement at the age of 34 due to a shoulder injury which hasn't responded to surgery, he can look back on a career full of highlights and one built on his best attribute - speed.
The Auckland Grammar head prefect was an excellent sprinter in his youth - he clocked 10.68sec for the 100m - and made his first-class rugby debut at the age of 18 for Auckland. In 1997 he scored a hat-trick in his first Super Rugby appearance.
He is still the top try-scorer in Super Rugby with 59 during his time with the Blues, Hurricanes and Highlanders, but is best known for his exploits for the All Blacks, for whom he scored 49 tries in 62 tests between 2000 and 2007, which is still a record.
He overtook Christian Cullen as the All Blacks' top try-scorer at the 2007 World Cup.
One of his biggest lowlights came that year following New Zealand's World Cup quarter-final loss to France when he was arrested on suspicion of criminal damage at Heathrow Airport. He admitted to jumping on parked cars while intoxicated, leading to an apology and fine.
Howlett debuted for the All Blacks in 2000 against Tonga, scoring two tries. He scored an average of four points a game for during his test career, a remarkable feat for a non-goalkicker. His scoring rates were particularly good against Australia, with eight tries in 12 tests, and Wales with five in four tests.
In 2008 he won the Heineken Cup in his first season with Irish heavyweights Munster, and he will remain in Cork with his wife and three children. He was capped over 100 times for Munster.
Howlett's retirement was described by the Irish Times as a blow for the club and Kiwi coach Rob Penney. Howlett suggested to the newspaper recently he was interested in coaching, but also business, once he hung up his boots.
"I think a combination of the two, at what level coaching I don't know but certainly after so long in the game that's what I know and I'm confident talking about it and I think I've got a lot to offer,'' he said. "So at some level there will be an involvement.''
Howlett played for Munster against the All Blacks at Limerick's Thomond Stadium in 2008 and played a small part in his former team's 18-16 victory. His missed tackle on Joe Rokocoko in the final minutes allowed the All Blacks to escape with a win and avoid a repeat of Munster's famous triumph in 1978.
- APNZ