Shoebridge to be Team NZ representative at highly emotional talks after last week's America's Cup tragedy.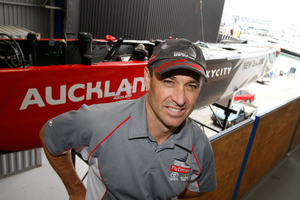 Team New Zealand will be represented by Kevin Shoebridge at tomorrow's competitors' meeting in San Francisco as America's Cup organisers try to plot the way forward for the event.
Shoebridge, the team's long-serving chief operating officer, will stand in for his combative boss Grant Dalton in what is expected to be a highly emotional meeting after last week's fatal capsize on San Francisco Bay involving Swedish team Artemis.
The three challengers and Cup defenders Oracle will meet regatta director Iain Murray as investigations into the cause of the training accident which led to the death of decorated British sailor Andrew Simpson continue.
The accident has raised many troubling questions about the concept of the high-powered AC72 catamarans and the racing format for this year's events, due to get under way in seven weeks with the Louis Vuitton challenger series.
Critics say the boats, which are designed for speed and push the limits of sailing technology, are too fast and too dangerous, but race organisers say they raise the sport to a new level.
While there has been speculation the regatta could be canned, it is understood the purpose of the meeting is to plan a way ahead for the embattled event. It is expected the teams will get a clearer picture of what led the Artemis boat to crash in seemingly benign conditions.
The key question for the participants to weigh will be whether they think Simpson's death was a freak accident caused by a mechanical failure aboard Artemis, or whether they think the boats and racing are so inherently dangerous that there could be further deaths. Given that the events of last week are still very raw, emotions are expected to run high at the meeting.
Patrizio Bertelli, the head of Luna Rossa, has already warned the Italian team will withdraw from the event if "no guarantees are given" over the safety of the sailors, while it is not known whether Artemis will have the desire to go on following last week's tragedy.
The Swedish team may have the hardware and resources to rebuild their boat but Simpson's death will make it very hard for them to continue.
Given the early indications are that the accident was caused by a major structural fault in the Artemis boat, there appears to be stronger resolve to continue in the Team New Zealand and Oracle camps. But information coming out of the teams has been sparse.
Artemis released a statement at the weekend asking the sailing community to desist from rumour and speculation, but that is not helped by the information void.