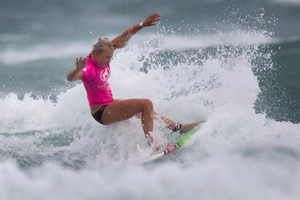 New Zealand surfer Ella Williams has earned fourth place at World Surfing Games in Santa Catalina, Panama this morning (NZT).
Competing at the games for the first time, the finish is easily the best international result in the burgeoning career of the 18-year-old from Whangamata.
Williams' star continues to rise after she won the New Zealand Women's Open in April and subsequently a starting position in the World Championship Tour event held at New Plymouth. Williams finished 13th at that event while competing against the best surfers in the world.
Today's final was held in 1m waves with onshore sea breeze winds, which was the biggest the surf had been since the start of the event eight days ago.
Williams finished with a 10.83 point heat total behind Australian pair Dimity Stoyle (13.30) and Codie Klein (12.63) as well as Brazilian Suelen Naraisa (12.47).
The final got off to a slow start, with a lack of waves for the first ten minutes. Williams, along with Klein and Naraisa, got mid-range six-point rides but it was Stoyle that broke away with a near perfect 9.5 point ride to take the lead.
Several big sets of waves rolled through the line-up late in the final but Williams, needing a 6.43 point ride to surpass her opponents and take gold, could not capitalise, leaving Stoyle victorious.
Williams will remain in Central America for the next three weeks and will then join up with the New Zealand Surfing team to contest the World Junior Championships in Nicaragua.
Williams' result helped the Kiwi team jump up to 12th after an average start to the event saw them fall as low as 14th on the team standings.
Paige Hareb was the last New Zealand surfer to gain a podium finish at the World Surfing Games, finishing runner up in 2010.
- APNZ