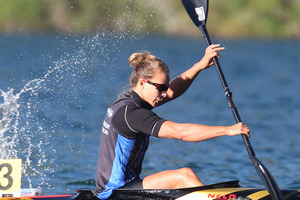 New Zealand women grabbed gold and silver medals in an encouraging start to their European campaign in Hungary.
World and Olympic champion Lisa Carrington won the K1 200m final of the opening World Cup regatta by a whisker.
On the Szeged course where she shot to prominence in the kayak world two years ago, the Bay of Plenty paddler clocked 40.475 seconds to pip Poland's fast-rising Karolina Naja by just .024s.
Shortly after on the final day of racing, North Shore's Teneale Hatton finished second in the gruelling K1 5000m.
Hatton was only .660s off the gold in recording 22min 32.924s to finish just behind Britain's Louisa Sawers, with Hungary's Renata Czay third in 22:33.116.
It is not Hatton' specialist event. Her target is the K2 500m, where she and Rachel Dodwell finished an impressive fourth a day earlier.
The pair, who have only been together a few weeks, were second fastest into the final, where they recorded 1:49.293. 2.7s behind winners Ninetta Vad and Anna Karasz of Hungary, and 1.3s behind third-placed Poles Beata Mikolajczyk and Aneta Konieczna.
The New Zealand pair were seventh at the 250m mark but roared home in similar fashion to their semifinal.
All that is highly encouraging for New Zealand head coach Gordon Walker.
''We had a good weekend," Walker said.
''World Cup medals are always rare, so for Lisa to get the gold was pretty good. She only won by .02s. She's got herself a very worthy adversary who I'm sure will pop up many time in the future.
''The fourth by Rachel and Teneale was the highest result by a women's K2, so that was obviously very satisfying. It was an absolutely superb result."
Carrington won the B final of the K1 500m in 1:57.641 in an event she's testing out this season to give herself an extra challenge alongside her specialist sprint discipline.
Former Olympic silver medallist Ben Fouhy missed his K1 1000m A final, and finished third in the B final while the young men's K4 crew of Daryl and Jarrod Fitzgerald, Zac Quickenden and Jasper Bats were sixth in their semifinal and missed the final.
Having arrived in Europe just a few days before the regatta, more is expected at the second World Cup which starts in Racice in the Czech Republic on Friday.