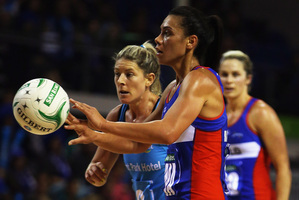 Steel 73
Mystics 63
It says much about the Northern Mystics season that last night's 10-goal loss to the Southern Steel was considered a marked improvement on their earlier form this year.
The Mystics produced probably their strongest and most consistent performance of the year, frustrating the Steel with their committed defensive effort for three quarters.
But they could not maintain the intensity for the full 60 minutes, and as bodies tired and the defence fell away, the Steel capitalised to record their third straight win and leap to fourth in the competition standings, ousting the Magic.
The Waikato-Bay of Plenty side will have to beat the Central Pulse in Hamilton tonight to reclaim their spot in the top four.
Under-fire shooter Cathrine Latu watched from the sidelines after coach Ruth Aitken benched the Silver Fern, who has had a series of lacklustre performances.
Bailey Mes, who made a strong impact off the bench in the final quarter of the last two matches, was handed the starting role and laid down a stern challenge for Latu.
The addition of the more agile Mes at the back seemed to open up the Mystics attack line, and the Auckland side found a better speed and rhythm.
While Mes' shooting was a bit wobbly in patches (37/46), she rebounded strongly to give the Mystics six second-chance shots.
Few gave the Mystics a chance of being able to contain the Steel's star import, Jamaican shooter Jhaniele Fowler, who is averaging 55 goals a game this season.
But they did a solid job of limiting Fowler's impact in the first half, applying themselves right across the court on defence and working hard to prevent the Steel taking those easy looks into the shooting circle.
Leading 33-32 at halftime, the Mystics continued to show strong resolve early on in the third period, stretching their lead out to four goals at several stages.
But as they tired later in the quarter their intensity began to drop off and the Steel led 50-47 lead heading into the final period.
With the potent scoring power of Fowler down the other end of the court, any errors from the Mystics attack line were quickly punished.
The star shooter finished with a flurry to finish at 59/61.
• In Sydney yesterday, the Melbourne Vixens beat old foes the NSW Swifts 50-42.
The result ensured the Vixens (6-1) kept pace with the Adelaide Thunderbirds (7-1) and Queensland Firebirds (6-1), at the top of the ladder with only one loss each.
And it left the Swifts in second last spot
In Perth, the Thunderbirds became the first team to notch seven wins in the season as they held off a much-improved West Coast Fever to claim a 49-47 victory.
- additional reporting AAP