Syndicates reconsider elite event after death when catamaran Artemis tipped and 'cracked like a taco'.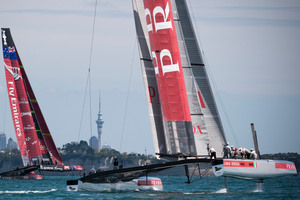 Team New Zealand will meet America's Cup officials this week to discuss the future of the embattled event following the death of British sailor Andrew Simpson.
The two-time Olympic medallist, a strategist on board Artemis, died when the Swedish team's AC72 catamaran capsized during a training run on San Francisco Bay on Thursday.
The tragedy has plunged the world's premier yachting event into uncertainty, with one challenger warning they may withdraw "if no guarantees are given".
Patrizio Bertelli, the owner of Italian syndicate Luna Rossa, said his team would take a couple of days to reflect on their position.
In an interview with Italian magazine Yacht Capital, which was published on sailing website yachtonline, Bertelli said he would not impose a decision on his crew, but he believed the adoption of the high-powered, 72ft catamarans had turned the America's Cup into an extreme sport.
"The way it is now, it's not okay," he said.
"Those responsible must take note. Not everybody has understood that we're now in an extreme America's Cup, whereas it was romantic before.
"We're now like Formula One or rally."
With the shock and grief still raw, Emirates Team New Zealand have so far declined to comment except to offer their condolences to Simpson's family and the Artemis team. But the fatal accident, which followed last year's serious capsize on San Francisco Bay by Oracle, has raised a number of troubling questions about a race that was supposed to rejuvenate the America's Cup.
The options floated since the tragedy range from safety tweaks, to delaying the start of the Louis Vuitton Cup, to cancelling the whole thing.
It is likely these issues and the implications for teams will be discussed when the representatives from all four teams meet regatta director Iain Murray on Wednesday.
"The meeting with the teams is a crucial next step," Murray said.
"We need to establish an open flow of information to ensure this review meets its goals of fact-finding and putting us in a position to recommend changes, if necessary.
"Once we have the information, the basic facts, all the data, then we will be able to rebuild the entire chain of events and start to assess why this incident resulted in a tragic loss of life," Murray said.
Tony Outteridge, father of Artemis helmsman and Australian Olympian Nathan, said his son had told him of hearing cracking noises and the boat tipping on its side before the main frame "cracked like a taco".
He told Australia's NBN that his son was distraught.
"He's not very good. He's said it's the worst day of his life," Outteridge said.
"A good mate dead. He was skippering the boat; he says he didn't do anything from normal but he was responsible for it."
Serious questions
* Are these boats too fast and too fragile?
* Is the course design too small?
* Are the conditions in San Francisco too volatile?
* Should race organisers reconsider decisions made going into this event?