Surge in last nine holes makes leader work hard to beat challenger by two shots.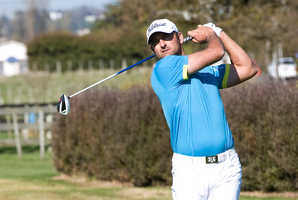 Mike Hendry won the Muriwai Open yesterday but it was far from the stroll in the park many expected when he began the final round of the Charles Tour event with a six-shot lead.
He shot a three under 69 in the perfect conditions and with nine holes to play was still six ahead.
Enter Richard Lee, who was runner-up when Hendry won the first Muriwai Open in 2010. He birdied the first five holes of the second nine and suddenly there was a contest.
He was driving the ball with power and accuracy and holing everything in sight. The margin was down to two coming to the 15th where Hendry holed a clutch birdie putt and Lee's putt was astray.
On the next hole Lee's immaculate driving faltered and he dropped a shot. But Hendry missed a short putt for a birdie of his own. They parred the short 17th and Hendry could afford a final hole birdie for a two-shot winning margin.
His 72-hole total of 18 under was a tournament record. He became the second player to win four Charles Tour events and he has twice won this tournament leading from start to finish.
"I came here this week to win," said Hendry. "I didn't finish the way I wanted but I'm not complaining about shooting three under. You don't expect to be under pressure when you lead by six, but Richard played fantastic today. The birdie on 15 was a really good putt to hole."
When Hendry won his first Muriwai Open in 2010, he predicted that he was in the form that would win him a big tournament. A few weeks later he won the rich Indonesian Open on the One Asia Tour. Any predictions this time?
"I think I'm a good enough player week in, week out that I believe I can win a big one any time. The only thing that's upsetting me is how I'm hitting it off the tee, which is usually one of my strengths."
Hendry now has a world ranking of 157, four better than Swede David Lingmerth, who is leading this week's Players Championship. The 33-year-old North Harbour pro's career earnings are estimated at $843,702.
Third and top amateur in the AskMetro tournament was 17-year-old Kadin Neho from the Whangarei Golf Club, who shot four rounds under par, including a closing 67, to finish to shots adrift of the vastly more experienced Lee.
Auckland amateur Mun Chin Keh won the women's event by five shots from North Shore professional Jenna Hunter.
Leaderboard
270: Michael Hendry (P) 65, 69, 67, 69
272: Richard Lee (P) 67, 69, 71, 65
274: Kadin Neho (Whangarei) 69, 68, 70, 67
278: Clarke Osborne (P) 71, 71, 69, 67.