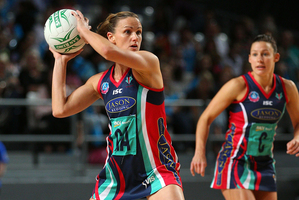 The Melbourne Vixens added to the misery of old foes the NSW Swifts' transtasman netball league season with a 50-42 victory in Sydney yesterday.
The battle between great foes was an intense, physical affair that was evenly contested until the Vixens split it open with an 11-1 goal spree in the third quarter.
The result ensured the Vixens (6-1) kept pace with the Adelaide Thunderbirds (7-1) and Queensland Firebirds (6-1), at the top of the ladder with only one loss each.
And it left the Swifts, a traditional powerhouse, languishing in second last spot with a 1-6 record.
For the Swifts, Carla Dziwoki converted 19 of 21 attempts while vice-captain Susan Pratley scored 18 from 25 attempts.
Tegan Caldwell was on fire for the Vixens with 22 from 25, while Karyn Howarth converted 19 from 23 after coming on in the second quarter.
Vixens captain Bianca Chatfield couldn't afford too much sympathy for her beaten opponents, who had won the last three encounters between the teams dating back to 2011.
"We're really pleased with the win," she said. "They've had it over us the last couple of years.
"We knew it was going to be really hard (and) it was a hard slog out there today."
"To be honest, I never look at where anybody is on the ladder because you know the teams that match up well on you.
"I think we play very similar games, we're a very one-on-one style of defence and contest everything and they're exactly the same.
"They've got quality players and I don't think their position on the ladder really reflects how good they can be as a team."
Chatfield said the Vixens had plenty of improving still to do.
"We made too many critical errors and didn't protect the ball enough, but that's okay - we got through and we're happy with the win."
Vixens coach Simon McKinnis agreed.
"It was a tough match, it always is against the Swifts," McKinnis said.
"It was physically challenging both ways and I'm very pleased with the way we kept working through the game to get the win.
"They gave themselves the best opportunity to win the game, they really challenged us and vice versa so it was a good contest."
The Thunderbirds became the first team to notch seven wins in the season as they held off a much-improved West Coast Fever to claim a 49-47 victory in Perth.
The last time the two teams met, on April 14 in Adelaide, the Thunderbirds hammered the Fever by 26 goals.
But they were forced to battle a late comeback this time before the sixth-placed Fever fell to a 3-5 record.
The Thunderbirds attackers were given a torried time by the Fever's English defender Eboni Beckford-Chambers but Carla Borrego finished with 29 goals from 39 attempts and Erin Bell 20 from 28.
- AAP