Harness horseman contested six races at Addington and enjoyed a perfect result.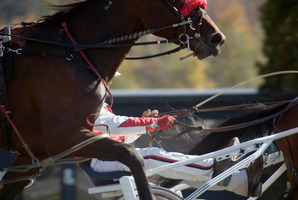 Saturday's domination of Addington by Mark Purdon has to rank as the single greatest day's training in the history of New Zealand harness racing.
And maybe horse racing of either code in this country.
While that will rankle traditionalists, what Purdon achieved is impossible to argue with. He trained the winners of all six races he had representatives in, including the three richest races of the day.
He trained the quinella in the $150,000 Nevele R Fillies Final, missing the trifecta by a nose as freak Adore Me bolted in.
Purdon won the $225,000 Sales Series Pace and the $60,000 Sires' Stakes Trot, in which he trained four of the first five home.
He won three other races and his only low point was what helped him complete the clean-sweep, as Royal Mach was a late scratching from a race he couldn't win.
Any trainer winning six races on a major day at a metropolitan track is virtually unheard of, but to win all three major races seals the deal as our greatest single-day training performance.
Purdon has actually trained seven winners in a day before, at Alexandra Park on December 31, 2009 but that was far from a clean sweep as he lost several races and didn't train winners of the richest races.
"That is the other day that sticks out in my mind but yesterday [Saturday] was more complete," said Purdon. "The team is racing fantastic and we had some luck, too, which you need for a day like that."
That luck, in the draw and the running, helped Isaiah win a thrilling Sales Series Pace, in which he ended the unbeaten run of Aussie star Allblack Stride.
Adore Me didn't need any luck though as she was brutal in the Fillies Final, prompting Purdon to make a rare venture into harness racing politics. "On what she is doing she will have to go close to getting Horse of the Year," he said.
Adore Me will be a hot favourite in the NZ Oaks this Friday and the Jewels on June 1 and should she complete that double she will push Terror To Love for the ultimate award. Which raises the question, could Adore Me challenge the likes of Terror To Love in the New Zealand Cup this year? The answer is no.
"I won't even nominate her for the Cup," said Purdon. "She doesn't need to go to those lengths that early but I think she will be the best mare in the country next season."
Purdon wasn't the only star of the day at Addington, with several Jewels contenders suggesting they are ready for the big day in a few weeks.
Bit Of A Legend looked back to his best with a crushing display against some sharp 3-year-olds and could rival Ohoka Punter for Jewels favouritism depending on the draws.
The latter warmed up with an easy win at the Cambridge workouts on Saturday and could return to racing there on Thursday.
Border Control overcame an early bobble to win a race he never should have been allowed to start in, a one-win event which he recorded his 11th career success in. Don't ask.
And sandwiched among the young guns was the great old man of trotting, Stig who came from a 20m handicap to almost break the national 2600m record. Stig was his usual self - hobbling and bobbling early before transforming into an equine tank. On any normal day he would have been the hero.
But what Purdon did on Saturday was anything but normal.
Greatest day?
* Mark Purdon produced the greatest single-day training performance in New Zealand harness racing.
* He trained the winners of all six races he contested at Addington.
* That included all three major races.
* Adore Me could go close to winning Horse of the Year.